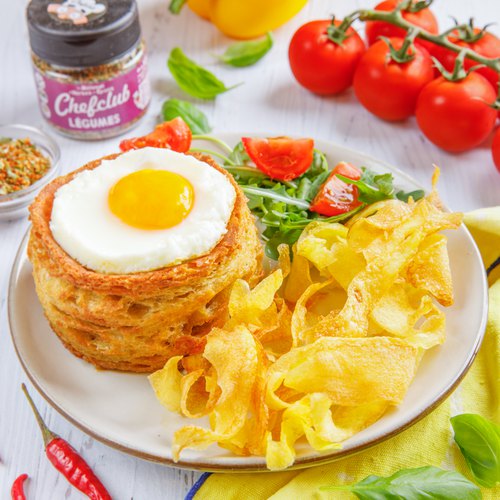 Zucchini Rolls
Zucchini Rolls! With chips, for a light and delicious meal 🥖🍆😋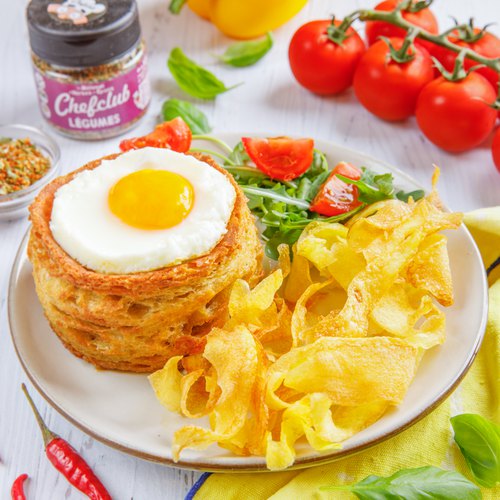 ---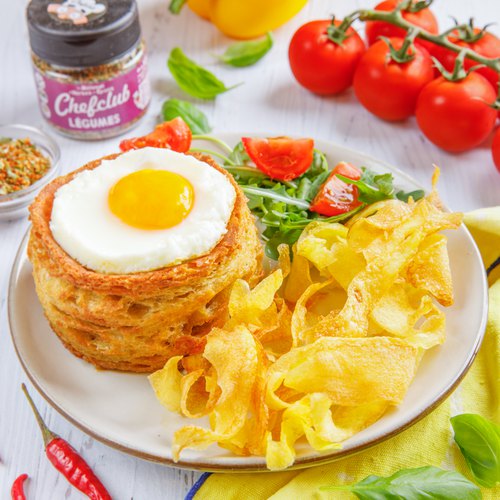 ---
Total time: 1 hour 10 minutes
Prep time: 35 minutes, Cook time: 35 minutes
Ingredients for 3 people
1 french baguette
3 egg
2 eggplants
0.4 cup of olive oil
2 tbsp of chefclub vegetable seasoning
2 zucchinis
1 tomato
1 red onion
2 oz of parmesan
3 potatoes
Basil
Butter
Oil
Chives
Lettuce
Tomatoes
---
Tools
Empty jam jars
---
Step 1/3
Cut the baguette lengthwise into 3 slices. Butter each side and wrap around jam jars. Place an egg in each lid. Bake for 10 minutes at 320°F.
Step 2/3
Cut the eggplants lengthwise into strips, drizzle with olive oil, sprinkle with the Chefclub vegetable seasoning and bake for 15 minutes at 350°F. Cut the zucchini into strips lengthwise, place the zucchini strips on the pre-cooked eggplant strips. Cut the tomato into slices then arrange them on the zucchini strips, cut the red onion into thin strips and sprinkle with basil. Roll up the strips on themselves to form a roll. Sprinkle with grated parmesan then bake for 10 minutes at 350°F.
Step 3/3
Grate the potatoes into strips using a vegetable peeler, fry them in hot oil and then drain them. Cut the eggplant roll into several parts then place into the baguette rings. Cover the baguette rings with an egg, arrange the potato chips all around and sprinkle the egg with chives. Serve with lettuce and tomatoes. Enjoy!