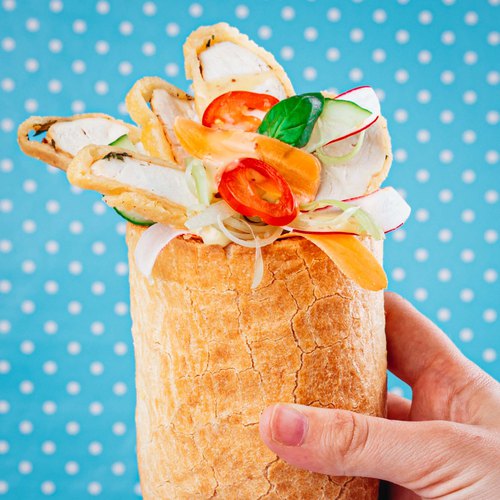 Revisited Chicken Sandwich
Revisited Chicken Sandwich! A healthy on-the-go meal 😄🥪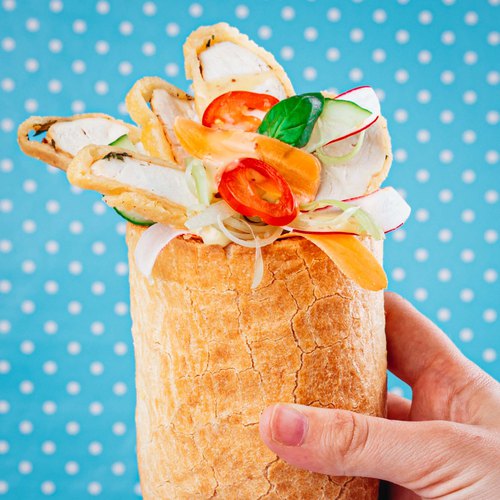 ---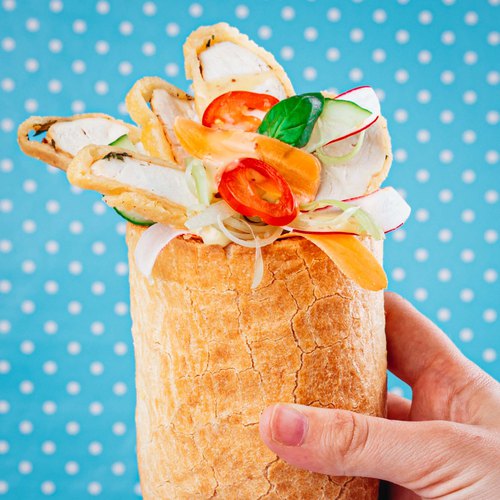 ---
Total time: 40 minutes
Prep time: 30 minutes, Cook time: 10 minutes
Ingredients for 4 people
5 egg
2 ciabatta bread
4 tbsp of butter
1 carrot
1 celery
4 radishes
1 cucumber
6 cloves garlic
2 chicken breasts
5.2 oz of parmesan
20 cherry tomatoes
3 tsp of mustard dressing
Thyme
Salad
---
Step 1/3
Cook 5 eggs in boiling water to obtain hard-boiled eggs, let them cool before removing their shells. Cut the ciabatta loaves widthwise, make a hole in the crumb and butter the inside. Place the loaves upright on a baking sheet and bake for 5 minutes at 350°F.
Step 2/3
Place each ciabatta half in a glass, cut 4 eggs in 4 and place an egg in each ciabatta. Cut the carrot, the celery stick, the radishes, the cucumber and the tomatoes into thin strips and add them to the ciabatta breads. Peel the garlic cloves, insert 3 cloves in each chicken breast. Cover the thyme with butter and spread on the griddle. Place the chicken breasts on the hot griddle, add the chopped thyme and cook for 5 minutes. Pour two lines of parmesan on the plancha and let them brown. Roll up each chicken breast inside each parmesan tuile before cutting them into thin slices.
Step 3/3
Pour a spoonful of mustard dressing over the salad and place the parmesan chicken slices on the vegetables. Place the salad on a plate, cut the remaining egg in 4, add it with to vegetables in strips and the remaining cherry tomatoes. Serve and enjoy!