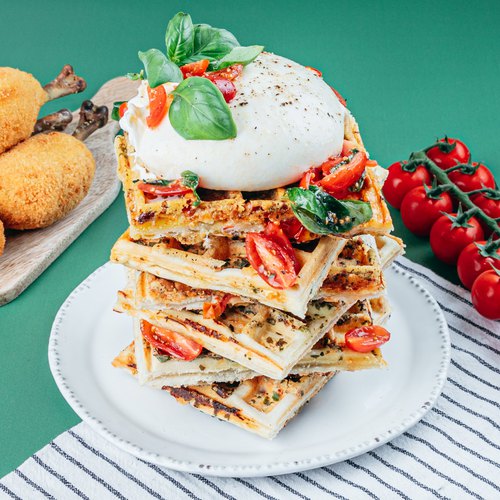 Italian Chicken & Savory Waffles
Italian Chicken & Savory Waffles! This combo is perfetto 😎🧇🍗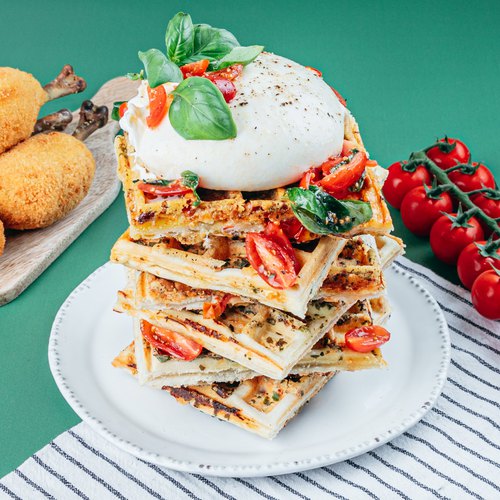 ---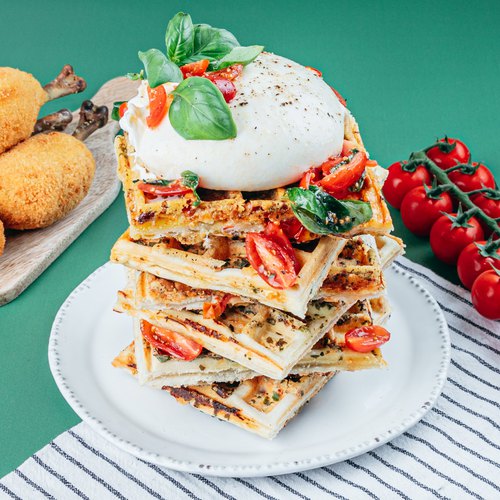 ---
Total time: 45 minutes
Cook time: 45 minutes
Ingredients for 6 people
3 pizza doughs
7 oz of shredded mozzarella
1 mozzarella ball
10 cherry tomatoes
3 1/2 oz of parmesan
Garlic
1 oz of pine nuts
5 drumsticks
Chefclub roast chicken seasoning
1 tbsp of honey
10 potatoes
4 egg
Olive oil
Salt & pepper
Parsley
1/2 cup of flour
1 cup of breadcrumbs
Sunflower oil
10 leaves of basil
---
Tools
Waffle iron
---
Step 1/4
Season the chicken and coat with honey. Bake in the oven until done. Remove meat from bones. Mix the chicken with the cooked mashed potatoes, some shredded mozzarella, 2 eggs, some parmesan and olive oil. Season with salt and pepper.
Step 2/4
Shape the loaded mashed potatoes and stick the chicken bone inside. Coat with flour, followed by the egg wash and the breadcrumbs. Fry in hot oil until golden brown.
Step 3/4
Take the pizza dough and stuff with mozzarella, cherry tomatoes, basil and olive oil. Sprinkle the waffle iron with parmesan, pine nuts, herbs and garlic. Place the pizza on top and close the dough on itself. Cook on waffle iron until done. Repeat the process with the remaining dough.
Step 4/4
Place the drumsticks and waffles on a plate. Add the large mozzarella ball on top and the remaining cherry tomatoes. Sprinkle with olive oil. Serve and enjoy!