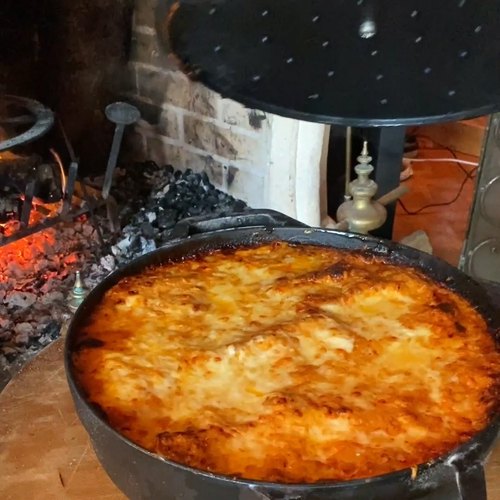 Classic lasagna
A family favorite cooked over an open fire!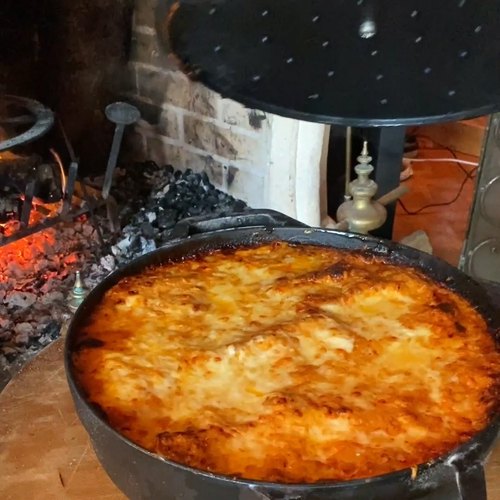 ---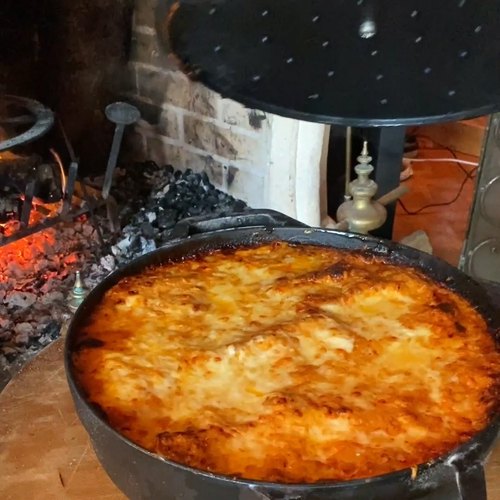 ---
Total time: 35 minutes
Prep time: 35 minutes
Ingredients for 6 people
7 oz of bacon
1 carrot
1 stalk celery
1 large onion
2 tsp of olive oil
1 lb of ground beef
1/2 lb of ground pork
1 2/3 cups of red wine
3 bay leaves
4 1/4 cups of tomato sauce
1 cube of beef stock
1/3 cup of butter
2/3 cup of flour
4 1/4 cups of milk
10 sheets of fresh lasagna
8 oz of mozzarella slices
sprigs of thyme
rosemary
parmesan
nutmeg
salt & pepper
---
Tools
Fireplace
Dutch oven
Cheese grater
---
Step 1/3
Brown the diced bacon in a frying pan with the olive oil. Cut the carrots, celery stalk, and onion into small cubes and add to the pan. Add the two ground meats and cook until they color and liquid is released. Pour in the wine and as soon as the liquid has evaporated, then add the thyme branches, bay leaves, rosemary, tomato sauce, and 1 1/4 cups of water. Crumble in the stock cube, add salt and pepper, and simmer covered over low heat for 1 hour and 30 minutes.
Step 2/3
For the bechamel, melt the butter in pieces in a saucepan, add the flour, beat and then pour in the milk. Mix well until the cream thickens. Add salt and pepper and grate nutmeg. Taste and season more if necessary.
Step 3/3
To assemble the lasagna in the casserole dish: start by placing a layer of Bolognese sauce on the bottom of the dish. Top with lasagna noodles, Bolognese sauce, bechamel sauce, mozzarella slices and freshly grated Parmesan cheese. Repeat the layering process in this same order until you reach the top of the dish. Close the lid of the casserole and place in a fireplace for 20 minutes and cover with coals using a shovel. Remove from the fireplace, serve, and enjoy!