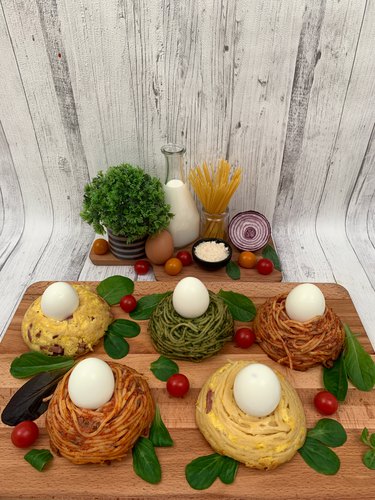 Spaghetti Nests
What flavor will you choose?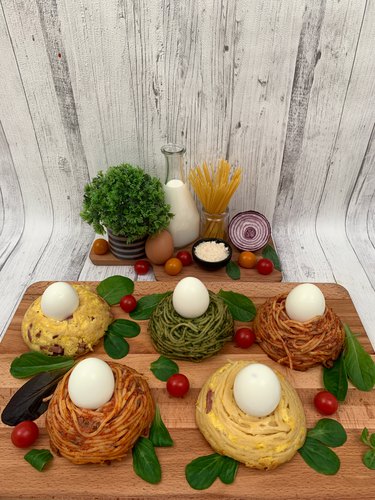 ---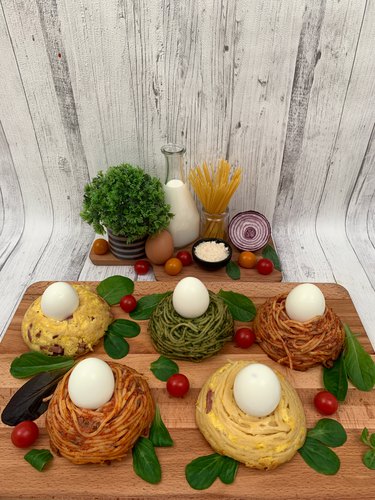 ---
Ingredients for 6 people
1 lb of spaghetti
1 onion
1/3 lb of ground beef
1 1/4 cups of tomato sauce
4 1/2 oz of bacon, diced
1 1/4 cups of heavy cream
1/2 cup of parmesan, grated
1/2 cup of pesto
9 eggs
---
Tools
Oven-safe bowls
Aluminum foil
---
Step 1/4
Cook the spaghetti in boiling salted water, drain and divide in 3.
Step 2/4
Sauté the chopped onion with the ground beef and tomato sauce. Fry the bacon and mix with the cream and parmesan cheese. Add each of these sauces to one portion of the pasta and add the pesto to the last.
Step 3/4
Place one quarter of each mixture to the bottom of a bowl. Form 6 balls with the foil and place one in each bowl on top of the pasta and cover with the remaining pasta. Beat 3 eggs, divide between the bowls, and bake for 10 minutes at 350 °F.
Step 4/4
Cook the remaining eggs for 6 minutes in boiling water and then stop the cooking by immersing them in ice water. Demold the pasta bowls by turning them over and remove the aluminum balls. Peel the eggs and place them in the holes formed by the balls. Cut into the eggs to let the yolk drip through the pasta and enjoy!