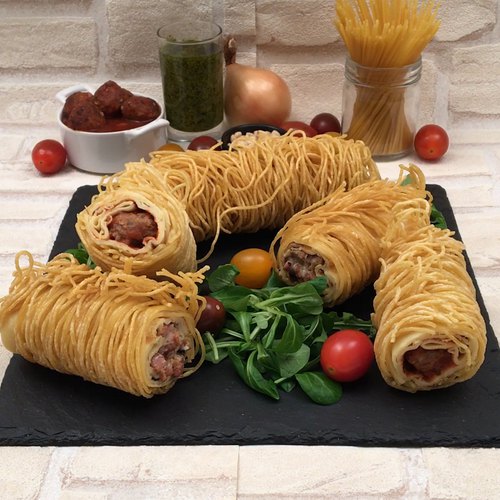 Spaghetti Wraps
Portable Pasta!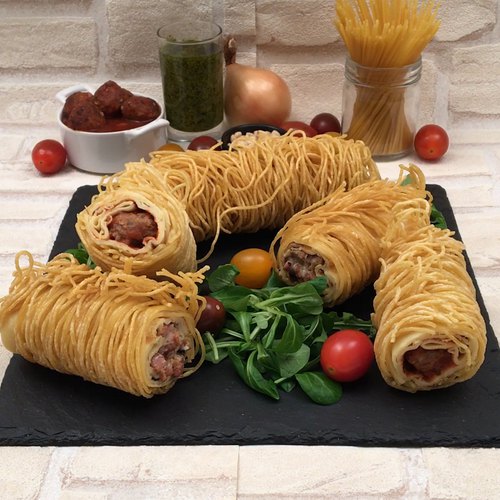 ---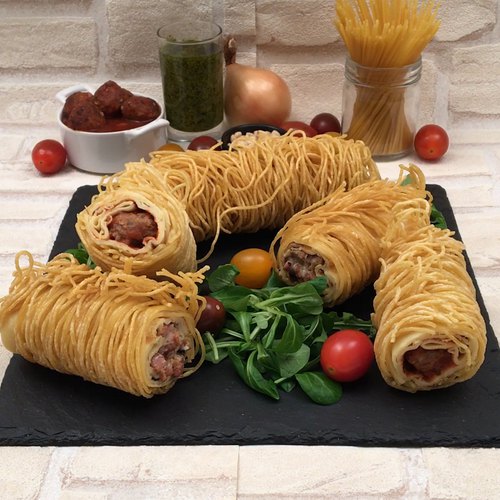 ---
Ingredients for 6 people
3 eggs
2 cups of milk
2 cups of flour
2/3 cup of olive oil
12 meatballs in sauce
3 slices of bacon, diced & cooked
14 mini bocconcini
1/2 lb of spaghetti, cooked
sour cream
pesto
tomato sauce
vegetable oil
---
Step 1/4
Mix the flour, eggs, olive oil, salt, and milk to make a crepe batter. Cook 6 thick crepes.
Step 2/4
Arrange cooked meatballs in the middle of 2 crepes, spread sour cream and bacon in the middle of 2 others, and spread pesto and place mini bocconcini balls in the middles of the last 2. Fold over the sides of the crepes and roll them up like burritos.
Step 3/4
Spread cooked spaghetti on cling film in a large rectangle the width of the crepe rolls. Roll a crepe in the spaghetti and repeat for all the crepes. Freeze for 30 minutes.
Step 4/4
Take the spaghetti rolls out of the freezer, fry them in hot vegetable oil, and enjoy by dipping them in sour cream, tomato sauce, and pesto.