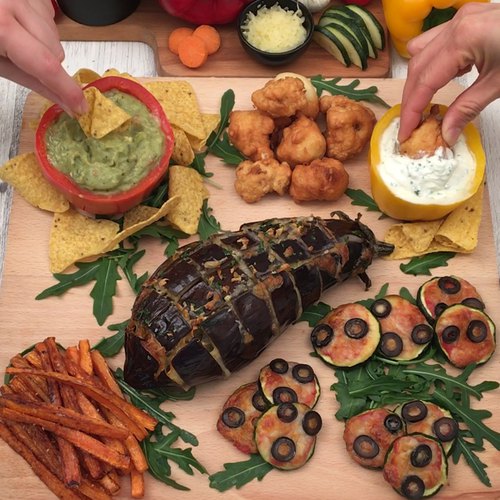 5 Gourmet Veggie Apps
Pull apart eggplant is officially a thing! 🍆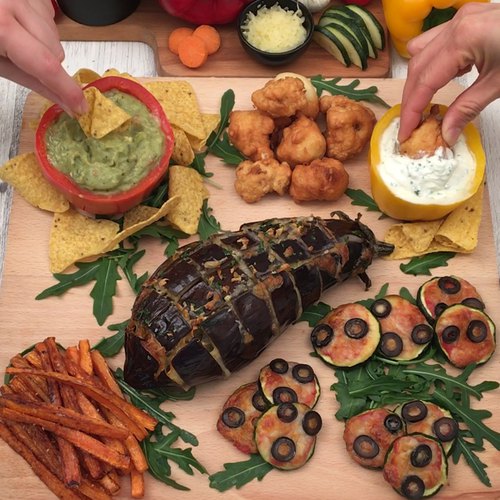 ---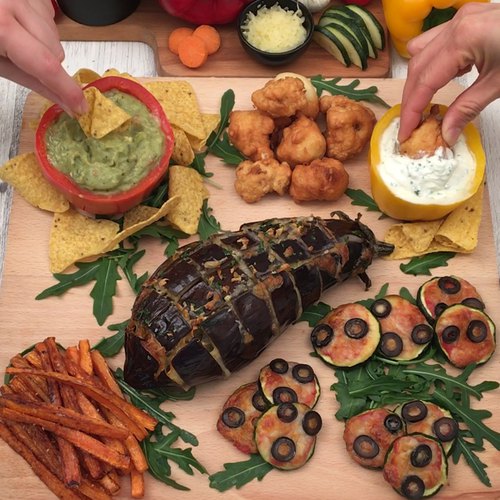 ---
Total time: 40 minutes
Prep time: 25 minutes, Cook time: 15 minutes
Ingredients for 4 people
1 eggplant
1 clove garlic
1/2 cup of olive oil
2/3 cup of mozzarella, grated
1 zucchini
2 cups of tomato sauce
10 black olives
3 carrots
1/2 cup of parmesan, grated
2 bell peppers
2/3 cup of sour cream
2/3 cup of guacamole
1 cauliflower
2 eggs
2 cups of flour
1 tsp of baking powder
1/2 cup of milk
parsley
chives
vegetable oil
---
Tools
Baking tray
Parchment paper
---
Step 1/4
Cut the eggplant into cubes without separating the pieces from each other. Divide 1/2 cup of grated mozzarella between the cubes. Mix the olive oil with the chopped garlic and chopped parsley and brush the eggplant with this mixture.
Step 2/4
Cut the zucchini into 10 slices and spread the tomato sauce on top. Spread the remaining grated mozzarella and sliced olives overtop. Cut the carrots into sticks. Place the eggplant, zucchini slices, and carrot sticks on the baking tray lined with parchment paper, sprinkle the carrots with grated Parmesan cheese, and bake for 15 minutes at 350 °F.
Step 3/4
Cook the peppers for 5 minutes in boiling water, drain them and cut off the tops. Remove the seeds inside and fill one with the sour cream mixed with chopped chives and the second with guacamole.
Step 4/4
Cut the cauliflower into small florets. Mix the eggs, flour, baking powder, and milk and dip the cauliflower florets in this mixture and fry them. Enjoy all the vegetables by dipping them in the sour cream and guacamole!