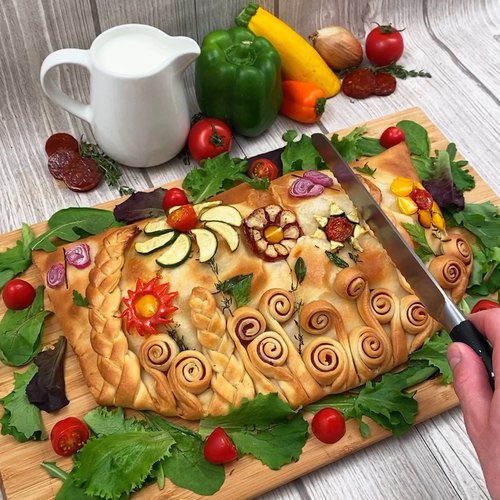 Garden-Style Calzone
It's a work of art! 🎨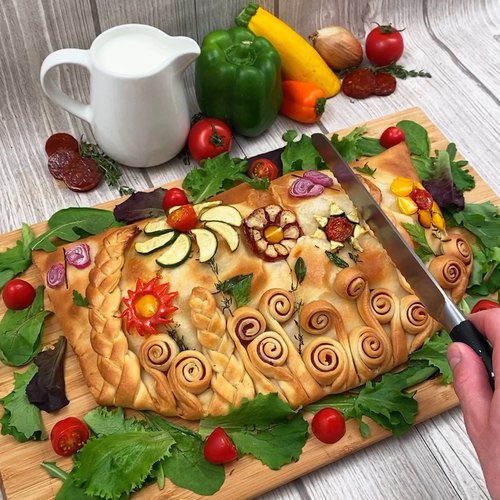 ---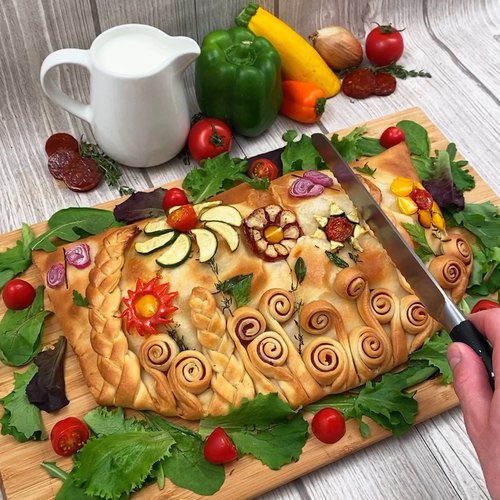 ---
Ingredients for 4 people
2 pizza dough
1 cup of tomato sauce
1 cup of shredded mozzarella
1 cup of mushrooms
3 slices of ham
1 ball of mozzarella
1 slice of prosciutto
thyme
cherry tomatoes
garlic
zucchini
bell peppers
shallots
chives
---
Tools
Rolling pin
---
Step 1/3
Stack the 2 pizza doughs and stick them together by rolling the rolling pin over them. Spread the tomato sauce, the grated mozzarella, the mushrooms, 2 slices of ham in strips and the ball of mozzarella cut into cubes in the center of the dough. Season with salt and pepper and sprinkle with Herbs de Provence. Fold 1 of the sides of the dough over the sauce.
Step 2/3
Cut the other side of the dough from the edge to the sauce into 22 thin strips. Cut 1 slice of ham into 6 slices of the same size as the dough slices and place each one on a slice of dough. Do the same with 7 slices of prosciutto. Leave the slices of place dough side by side by 3. Roll the slices with ham towards the part with the sauce and tilt them at 90° at different heights on the pizza. Braid together in groups of 3 the strips of virgin dough and then fold the braids over the pizza.
Step 3/3
Place sprigs of thyme on the pizza. Place 1 disc of cured ham on the pizza, add 1 slice of yellow cherry tomato in the middle and arrange pieces of garlic clove around the slice to make a flower. Make 2 more flowers with pieces of zucchini around half a cherry tomato, then 2 more with pieces of bell pepper. Form butterflies by placing 2 slices of shallot around 1 sprig of chives. Place in the oven for 25 minutes at 375 °F. Remove from the oven, cut into slices and enjoy.