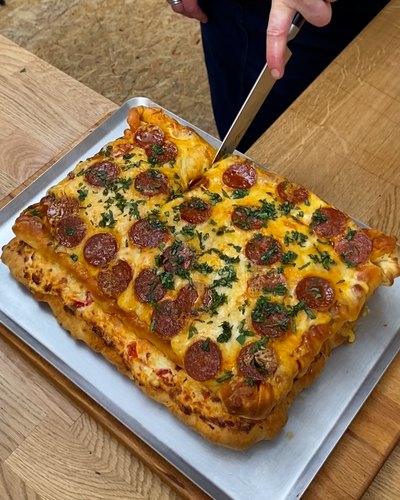 The Ultimate Stuffed Pizza
Double the pizza, double the yum 🍕🤤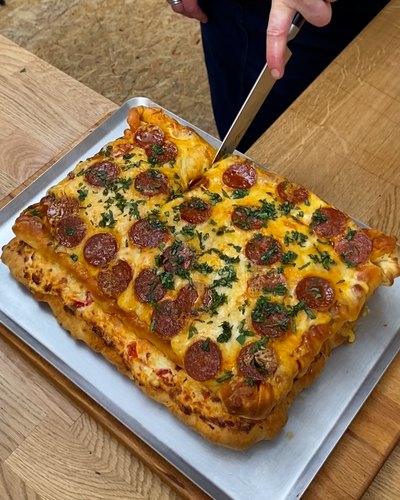 ---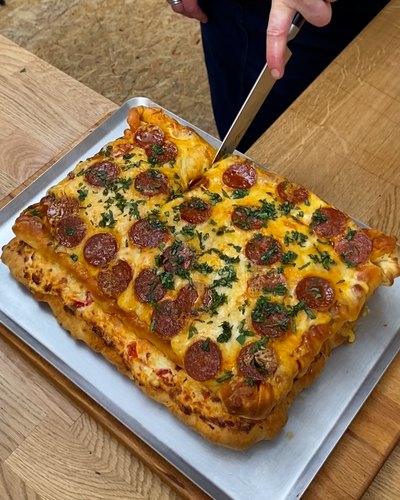 ---
Total time: 1 hour
Prep time: 30 minutes, Cook time: 30 minutes
Ingredients for 8 people
3/4 cup of pizza sauce
1/3 cup of chefclub pizza spice mix
4 pizza dough sheets
28 string cheese sticks
20 salami slices
6 oz of artichoke hearts
6 oz of black olives
16 oz of cream cheese
6 oz of pepperoni
2 cups of shredded mozzarella
1 1/2 cups of shredded cheddar
1/4 cup of grated parmesan
1/3 cup of chopped tomatoes
1 tbsp of minced garlic
fresh basil
---
Tools
Oven rack
Glasses
Electric griddle
---
Step 1/3
Add the pizza spice mix to the pizza sauce and brush 1 thinly rolled rectangular pizza dough sheet with a thin layer of sauce. Prop up an oven rack on top of 4 glasses and lay the pizza dough on top. Add 2 string cheese slices per column, pushing the down slightly. At the end you should have 7 columns of string cheese. Sprinkle with half of the chopped salami, sliced artichoke hearts, and sliced black olives and cover with a second sheet of pizza dough. Fold and seal the edges in a twisted pattern. Then repeat the process to create a second pizza like this. Bake both pizzas for 20 minutes at 400 °F.
Step 2/3
Meanwhile, mix the cream cheese, grated parmesan, 1 1/2 cups mozzarella, 1/2 cup cheddar, 1/2 cup chopped pepperoni, diced tomatoes, and garlic in a bowl. Remove the pizzas from the oven. Flip one pizza over, cover with the cream cheese mixture, and return to the oven for 8-10 minutes at 400 °F.
Step 3/3
Add pepperoni slices to an electric griddle and then cover with remaining mozzarella and cheddar, making a rectangle. Let melt slightly and flip the second pizza on top, let the cheese brown on the edges, remove from the griddle, and flip onto the cream cheese pizza. Sprinkle with basil, serve, and enjoy!