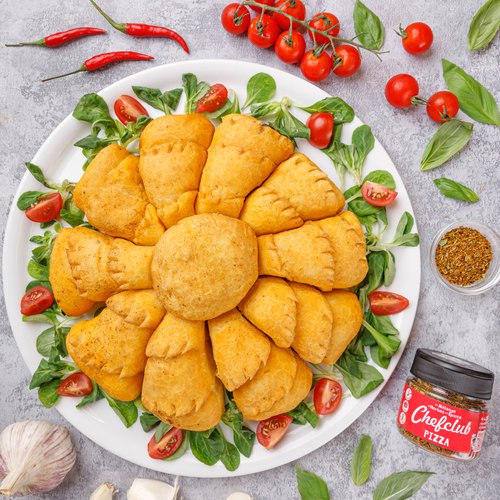 The Mediterranean Pizza
The Mediterranean Pizza! Sure to impress with gooey cheese & hearty tomato flavors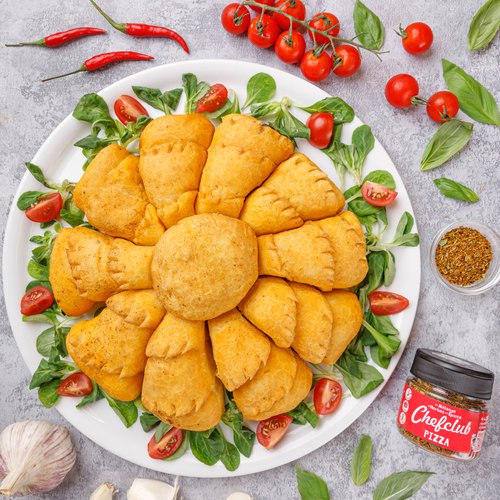 ---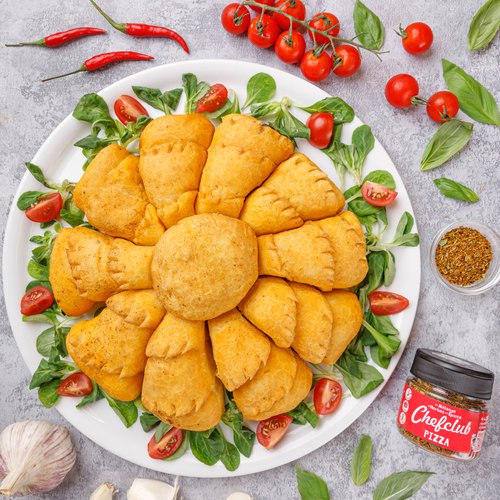 ---
Total time: 1 hour
Prep time: 30 minutes, Cook time: 30 minutes
Ingredients for 6 people
2 mini mozzarella balls
2 oz of diced ham
1 eggplant
1 tomato
1 tbsp of spices
2 tbsp of red pesto
2 oz of shredded mozzarella
1 pizza dough
---
Tools
Scissors
---
Step 1/3
Remove the skin from the eggplant and tomato, crush them and sprinkle 1 tablespoon of Chefclub spice mix, then mix. Reserve the eggplant and tomato puree.
Step 2/3
Sprinkle the pizza dough with spices, then cut 11 strips of pizza dough lengthwise. Form a ball with each strip, then flatten it to make a disc. Pour the pesto into a bowl with a strainer to separate the oil from the pesto. Dip the edge of each disc into the pesto oil. Place the tomato and eggplant puree, pesto, mozzarella, and ham cubes in ¼ of the disc, then make a cut from the center to the end of the discs to form cones with 10 dough discs.
Step 3/3
Form a ball with the last strip of dough, fill it with tomato and eggplant puree and mozzarella balls, close the dough ball, then dip it in the remaining pesto oil. Arrange the cones in a baking dish, then place the dough ball in the center of the cones. Cut the edges of the cones with scissors, then bake for 30 minutes at 350°F. Serve and enjoy!