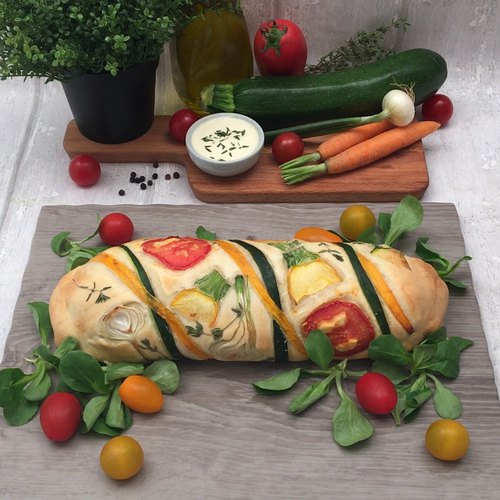 Roasted Lamb Roll
Wrapped in dough and colorful veggies!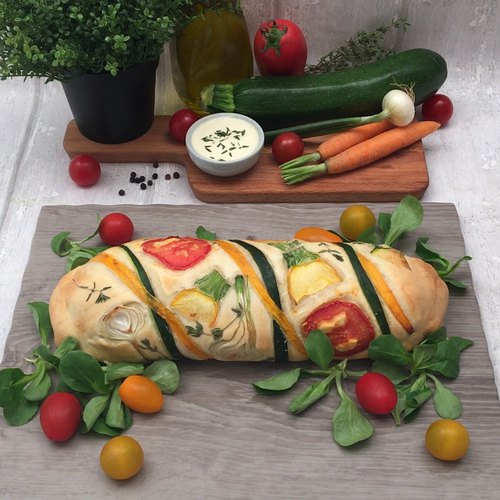 ---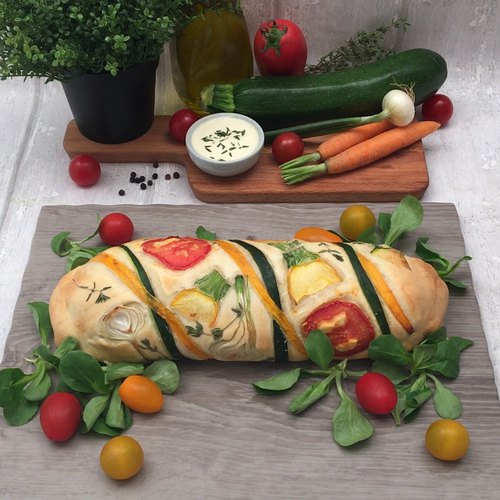 ---
Ingredients for 4 people
1 yellow zucchini
1 green zucchini
1 tomato
1 spring onion
1 pizza dough
1 lamb loin
8 slices of prosciutto
1 ball fresh mozzarella, sliced
thyme
paprika
turmeric
salt & pepper
---
Tools
Rolling pin
Cling wrap
Parchment paper
---
Step 1/3
Remove the tops of the zucchinis and peel them. Cut the top of the yellow zucchini, the tomato, and the spring onion into thin strips. Place 3 slices of yellow zucchini top, 3 slices of spring onion, 4 slices of tomato, strips of peel from the 2 zucchini and sprigs of thyme on the pizza dough. Press into the dough by rolling them over with the rolling pin and refrigerate.
Step 2/3
Butterfly the lamb loin, lay it in a large rectangle on cling wrap and drizzle with olive oil. Season with paprika, turmeric, salt, and pepper. Place the prosciutto and the sliced mozzarella cheese on top and roll the lamb into a log with the cling wrap. Freeze for 3 hours.
Step 3/3
Remove from the freezer and sear the roll in a pan with a drizzle of olive oil. Place the seared roll on the underside of the pizza dough and wrap it up. Place on a baking tray lined with parchment paper and bake for 20 minutes at 350 °F. Remove from the oven, slice, and enjoy!