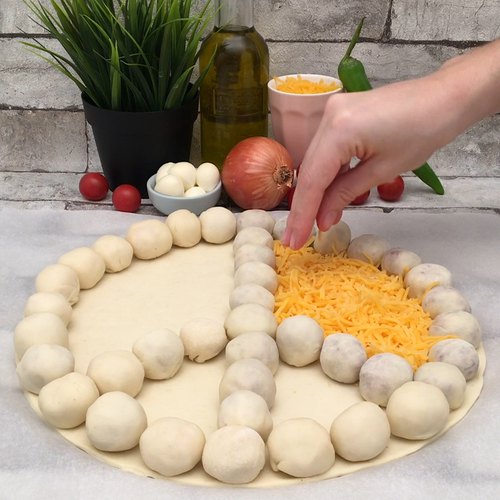 Hippies' Delight
Peace, love, and a lot of dipping!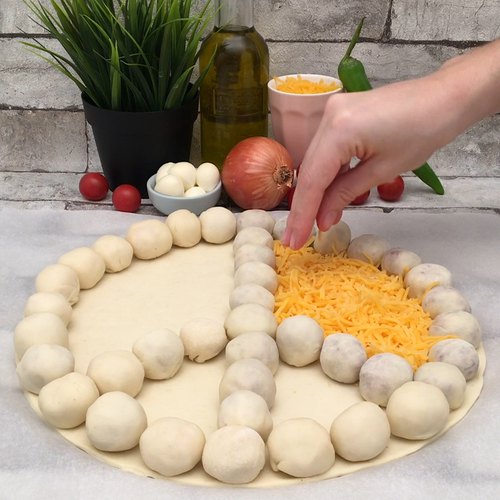 ---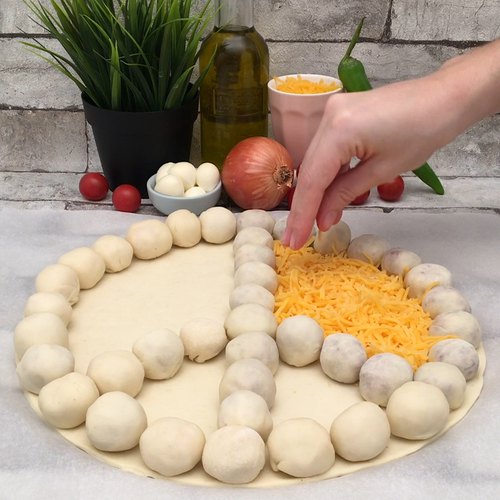 ---
Ingredients for 6 people
4 pizza doughs
1/4 lb of ground beef
1 onion, chopped
1 chicken breast, cooked & shredded
1/3 cup of cheddar cheese
2 jalapeño peppers
5 slices of prosciutto
15 cherry tomatoes
1/4 cup of mozzarella, grated
1/2 cup of guacamole
parsley
sesame seeds
salt & pepper
---
Tools
Baking tray
Parchment paper
---
Step 1/4
Cut 14 discs from 3 pizza doughs. Mix the ground beef, minced onion, chopped parsley, salt, and pepper. Place meatballs on 1/3 of the discs.
Step 2/4
Place chicken, grated cheddar cheese, and 1 slice of jalapeño on another 1/3 of the discs. On the last 1/3, place prosciutto and cherry tomatoes.
Step 3/4
Roll all the discs into balls and place them around the edge and in the middle of the last pizza dough, laid on the baking tray lined with parchment paper, to form a peace sign.
Step 4/4
Place the grated cheddar in one section, the mozzarella in another and the guacamole in the last 2. Sprinkle the balls with sesame seeds. Bake for 20 minutes at 350 °F and enjoy by dipping the balls in the melted cheese and guacamole!