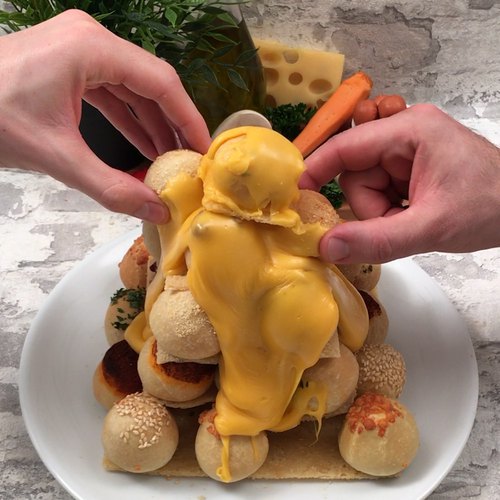 Party Snack Ideas
Get ready to fight for the last bite of these tasty apps! 😉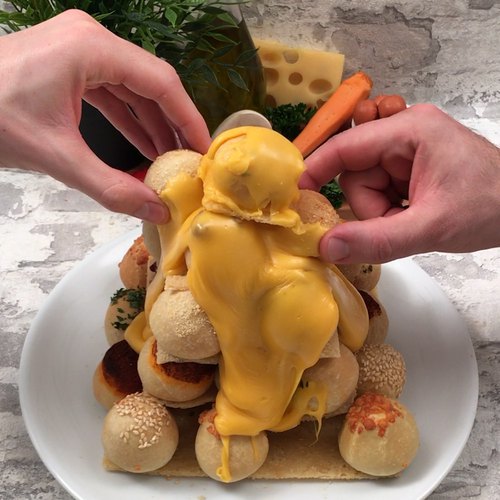 ---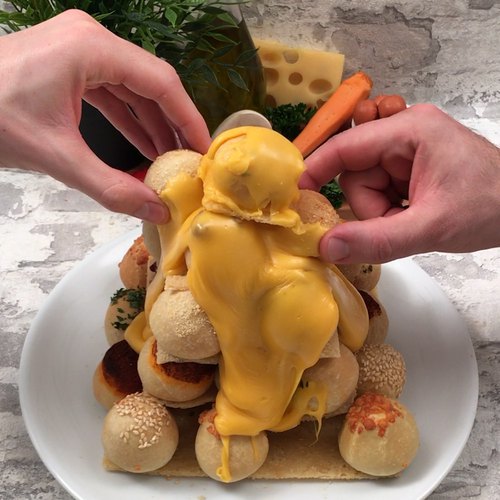 ---
Ingredients for 6 people
babybel ® cheese
hot dogs
mozzarella
prosciutto
pizza dough
lettuce
cherry tomatoes
meatballs
onion
egg yolk
puff pastry
chorizo
cheddar cheese
tomatoes
guacamole
cocktail sausages
olives
butter
sesame seeds
parsley
parmesan cheese, grated
bacon
parmesan crisps
---
Tools
Parchment paper
Round cake pan
---
Step 1/5
Place a Babybel ® on a pizza dough and arrange 2 pieces of hot dog and 3 slices of prosciutto rolled up to make fingers around it. Do the same with a disc of mozzarella, 4 pieces of hot dog and 1 prosciutto roll. Cover with a second pizza dough and seal well around the shapes. Cut out the formed hands from the dough, fold in fingers and place them on an baking tray lined with parchment paper. Bake for 20 minutes at 350 °F.
Step 2/5
Place a Mont-d'Or cheese in the middle of a pizza dough and cover it with a 2nd dough. Arrange cooked meatballs around the mont-d'or on the dough. Add lettuce, cherry tomatoes, and onion bits on top. Cut the top dough between each meatball and roll them up against the cheese wheel. Do the same on the bottom dough to form a second row of wrapped meatballs. Brush with egg yolk and bake for 15 minutes at 350 °F. Cut out the top of the cheese and dip the meatballs.
Step 3/5
Place a puff pastry in a round cake pan. Cut 2 rectangular puff pastries in half lengthwise. Arrange a row of sliced chorizo, slices of cheddar cheese, and diced tomatoes lengthwise on each half. Fold the strips in half lengthwise to enclose the filling. Fold the strips into accordions and arrange them on end around a bowl placed upside down in the cake pan. Bake for 15 minutes at 350 °F. Remove the bowl and fill the hole with guacamole. Enjoy by dipping the puff pastries in the guacamole.
Step 4/5
Cut a round puff pastry into 8 wedges and then cut 2 notches perpendicular to each cut on each side. Place 3 cocktail sausages lengthwise in the middle of half of the pieces and 3 cherry tomatoes in the others. Fold both sides of each piece over the sausages or tomatoes to enclose them. Bake for 10 minutes at 350 °F. Arrange the sticks in a circle around a ball of mozzarella.
Step 5/5
Coat olives, cherry tomatoes and cocktail sausages in small squares of pizza dough to form balls. Brush the balls with butter, then dip them in crumbled cheddar, sesame seeds, grated Parmesan, chopped parsley, or bacon and place them on a baking sheet lined with parchment paper. Bake for 15 minutes at 350 °F. Arrange the baked balls on a square parmesan crisp, cover them with another smaller crisp and arrange more balls on top, then repeat to make a pyramid. Pour melted cheddar cheese over the pyramid and enjoy.