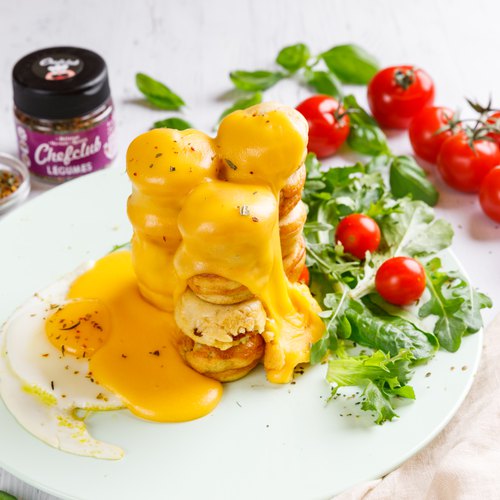 Cheesy Muffin Tower
Cheesy Muffin Tower! This is how to surprise friends at dinner! 🧀😊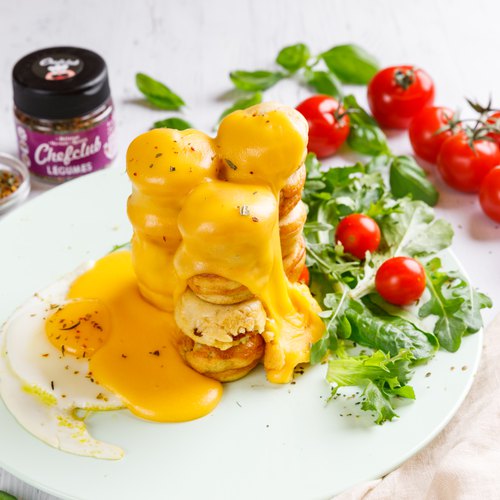 ---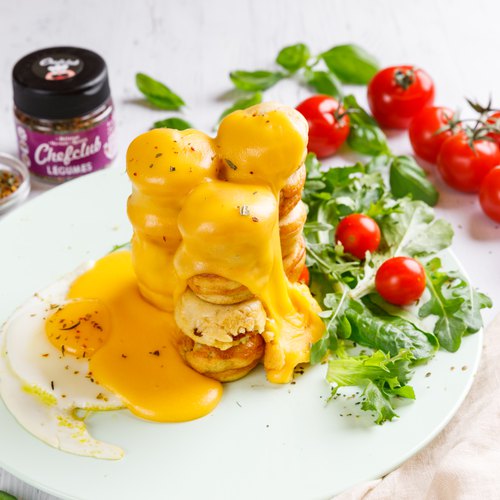 ---
Total time: 30 minutes
Prep time: 30 minutes
Ingredients for 2 people
5 egg
1 1/4 milk
1 1/2 cups of flour
2 tsp of baking powder
1 onion
3 1/2 oz of bacon
0.2 cup of anise-flavoured spirit
2 oz of feta cheese
6 balls mozzarella
2 tbsp of sun-dried tomatoes
3 1/2 tbsp of butter
0.4 cup of beer
9 oz of cheddar
Chives
Salad
Tomato
Salt
18 green olives
---
Tools
Skewers
Muffin tin
---
Step 1/4
Mix 2 eggs and milk gradually. Add the flour, baking powder and continue mixing, until you obtain a smooth batter.
Step 2/4
For the first filling, cut the onion into pieces and fry with the bacon in a skillet, adding a ladle of anise liqueur to flambé. For the second filling, mix in the green olives and feta cheese. For the third filling, mix in the sun-dried tomatoes and the mozzarella balls.
Step 3/4
Grease the muffin tin with butter, pour in half the pancake batter, add the bacon pieces and cooked onions in 2 rows, the green olive and feta cheese mixture in another 2 rows and lastly, the sun-dried tomato and mozzarella mixture. in another 2 rows. Cover each row with pancake batter. Flip the pancakes to cook the other side using a skewer stick.
Step 4/4
Skewer 4 pancakes onto 6 skewers and place them on a plate. Cook an egg on the griddle and cover with a lid, adding a little water to help it cook. Pour the beer into a pan, add the grated cheddar and stir until smooth. Serve on a plate with 3 pancake skewers, add the cheese sauce, salad and tomatoes, to finish. Enjoy!!