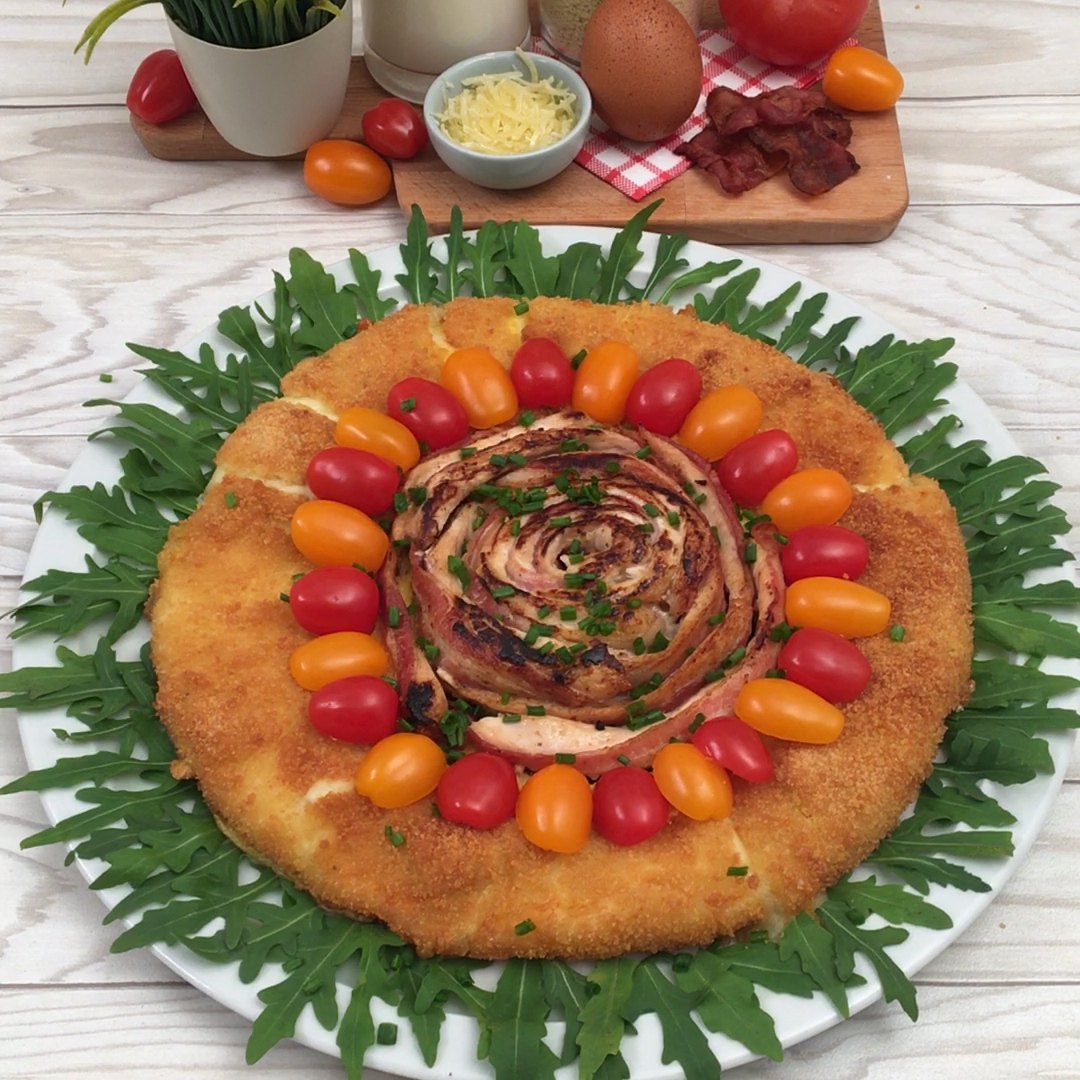 Cheesy Chicken Spiral
This. Is. Everything. 🙌
Made by you!
Ingredients
2 chicken breasts
2 sticks butter
6 slices of bacon
Flour
Eggs
Breadcrumbs
Multicolored cherry tomatoes
Vegetable oil, for frying
Chives
Tools
Skewers
Parchment paper
1. Slice the chicken breasts into 6 strips. Cut the butter into 12 strips. Place 1 chicken strip on each slice of bacon followed by a slice of butter. Roll up one strip and continue wrapping the other strips around until a large spiral is formed. Secure the spiral by sticking 2 skewers through it. Cook the spiral on both sides in the pan, basting it with butter as it melts.
2. Arrange the mozzarella balls on a lined baking sheet so that they will melt together when baked. Bake for 20 minutes at 350 °F. When ready, fold the resulting mozzarella sheet into a rectangle. Mold the rectangle into a large ring and let chill for 20 minutes.
3. Coat the cheese ring in flour, then egg, and finally breadcrumb. Fry in hot vegetable oil until golden brown.
4. Place the ring around the spiral and place both in a skillet. Pour beaten eggs where the two meet and heat until the eggs are cooked. Cut the cherry tomatoes in half and place them in alternating colors around the roll. Sprinkle with chopped chives and enjoy.
Similar recipes from Chefclub