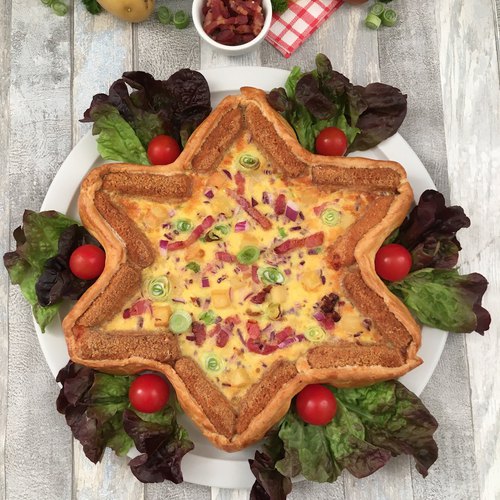 Raclette Quiche
The French know a thing or two about indulgence! 🤤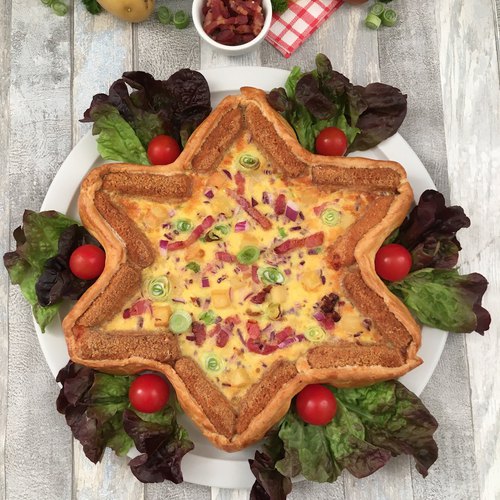 ---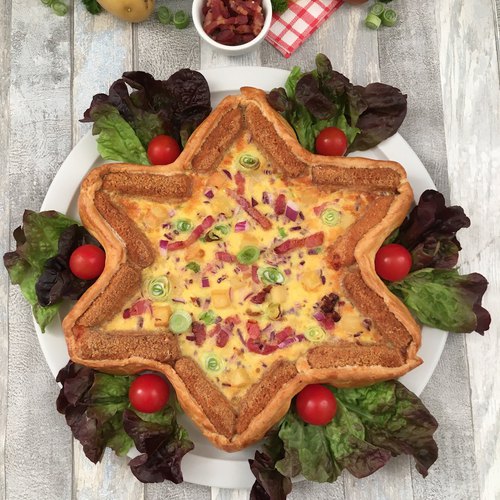 ---
Ingredients for 6 people
3 thick slices raclette cheese
1 1/2 cups of flour
6 eggs
4/5 cup of cream
2 cups of breadcrumbs
1 pie dough
1 cup of bacon, cooked and diced
1 cup of home fries
1 red onion, diced
2 green onions, sliced
vegetable oil
salt & pepper
---
Tools
Pastry brush
Parchment paper
---
Step 1/3
Cut the raclette cheese into 12 rectangles and bread them by coating them in flour, followed by 2 beaten eggs and the breadcrumbs. Fry the cheeses for 1 minute on each side then drain them well.
Step 2/3
Arrange the fried cheese slices on end on the pie dough so that they form a star. Brush the pie dough on the outside of the star with water and then fold it over the cheese. Place on a baking sheet covered with parchment paper.
Step 3/3
Mix together the remaining eggs, bacon, home fries, red onion, and green onions. Add the cream, salt, and pepper and pour the mixture into the star. Bake for 25 minutes at 350 °F, slice and enjoy!