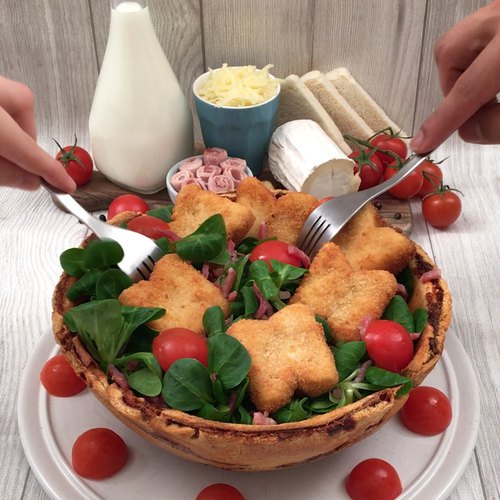 Sandwich Salad
Bread bowls just got taken to the next level.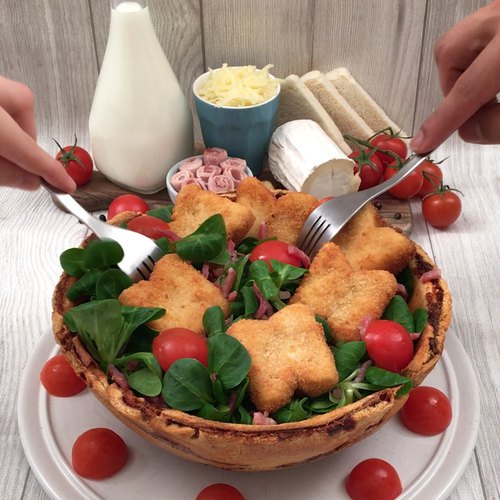 ---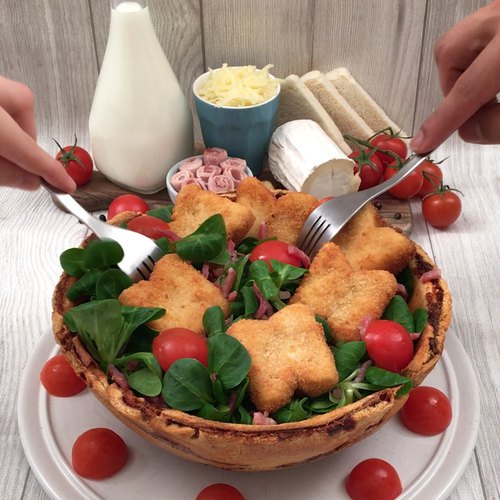 ---
Ingredients for 4 people
12 slices of white bread
3 slices of prosciutto
3 slices of ham
3 slices of swiss cheese
1/3 cup of grated mozzarella
1 log goat cheese
1/2 cup of flour
2 eggs
1/2 cup of breadcrumbs
3 slices of bacon, diced and cooked
1 head of lamb's lettuce
6 cherry tomatoes
vegetable oil
butter
2 salad bowls (one smaller than the other)
1 pastry brush
---
Step 1/4
Use the prosciutto, mozzarella and 6 slices of bread to make 3 sandwiches. Make 3 more sandwiches with the ham and swiss cheese. Cut all the sandwiches in half diagonally.
Step 2/4
Line the large salad bowl with the sandwich halves, arranging them so that there is no empty space between them. Brush with melted butter then place the smaller bowl on top, sandwiching the sandwiches between the 2 bowls. Bake for 30 minutes at 355 °F.
Step 3/4
Cut the log of goat cheese into 6 slices and then cut each slice in half. Place the slices back to back, pressing them together well, and freeze for 20 minutes. When they come out of the freezer, coat the goat cheese pieces in flour, beaten eggs and breadcrumbs and fry till golden in vegetable oil.
Step 4/4
Separate the salad bowl from the sandwich bowl. Add the lettuce, bacon, fried goat cheese, and cherry tomatoes to the sandwich bowl and enjoy.