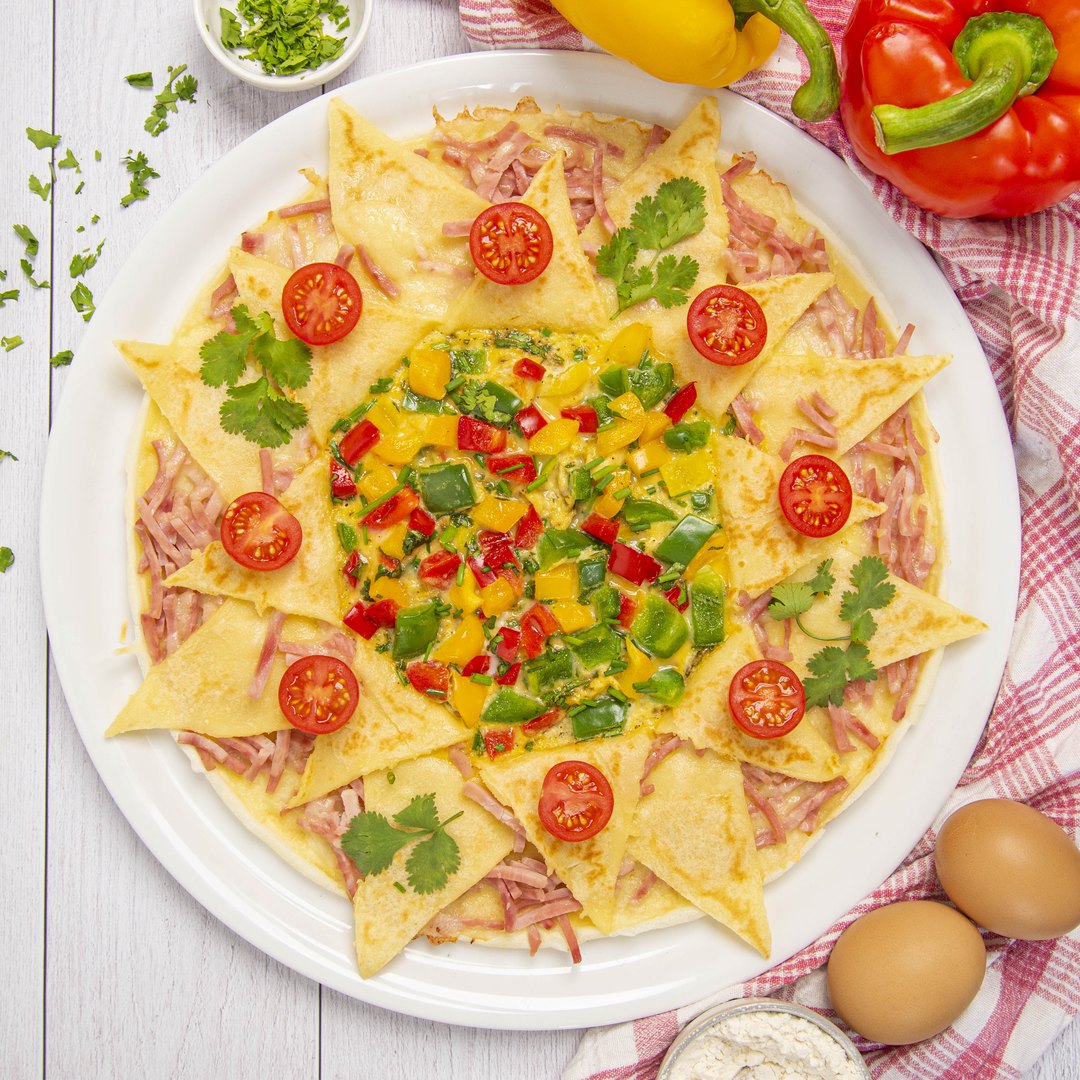 Sunrise Omelet
An eggcellent way to start your day🍅🌞😍
Made by you!
Ingredients
20 cherry tomatoes
6 oz diced ham
6 eggs
1/2 green bell pepper
1/2 yellow bell pepper
1/2 red bell pepper
2 cups flour
1 tbsp sugar
2 cups milk
1/4 cup butter
1 1/2 cups grated mozzarella
Chives
Parsley
Salt & pepper
1. Break 2 eggs into a wine glass and mix with a fork. Place a wide bowl upside down on top of the glass and then turn it upside down, placing the glass in the middle. Dice the peppers and place them on the plate around the glass. Sprinkle with chopped parsley and chives, season with salt and pepper, then remove the glass and mix the omelet.
2. Make a crepe batter with the flour, remaining eggs, sugar, milk, and melted butter. Spread a large ladleful of batter in a frying pan and place the diced ham and grated mozzarella on the edges of the crepe. Using a spatula, cut the crepe into 8 pieces in the middle without going all the way to the edge, then fold them outwards.
3. Add another ladleful of batter to the center of the pan and place the remaining diced ham and grated mozzarella in a circle close to the edge. Cut the center into 8 pieces again, and fold them over the edges. Pour the whisked egg mixture in the center of the crepe and let it cook. Decorate with halved cherry tomatoes and parsley. Serve and enjoy!
Similar recipes from Chefclub