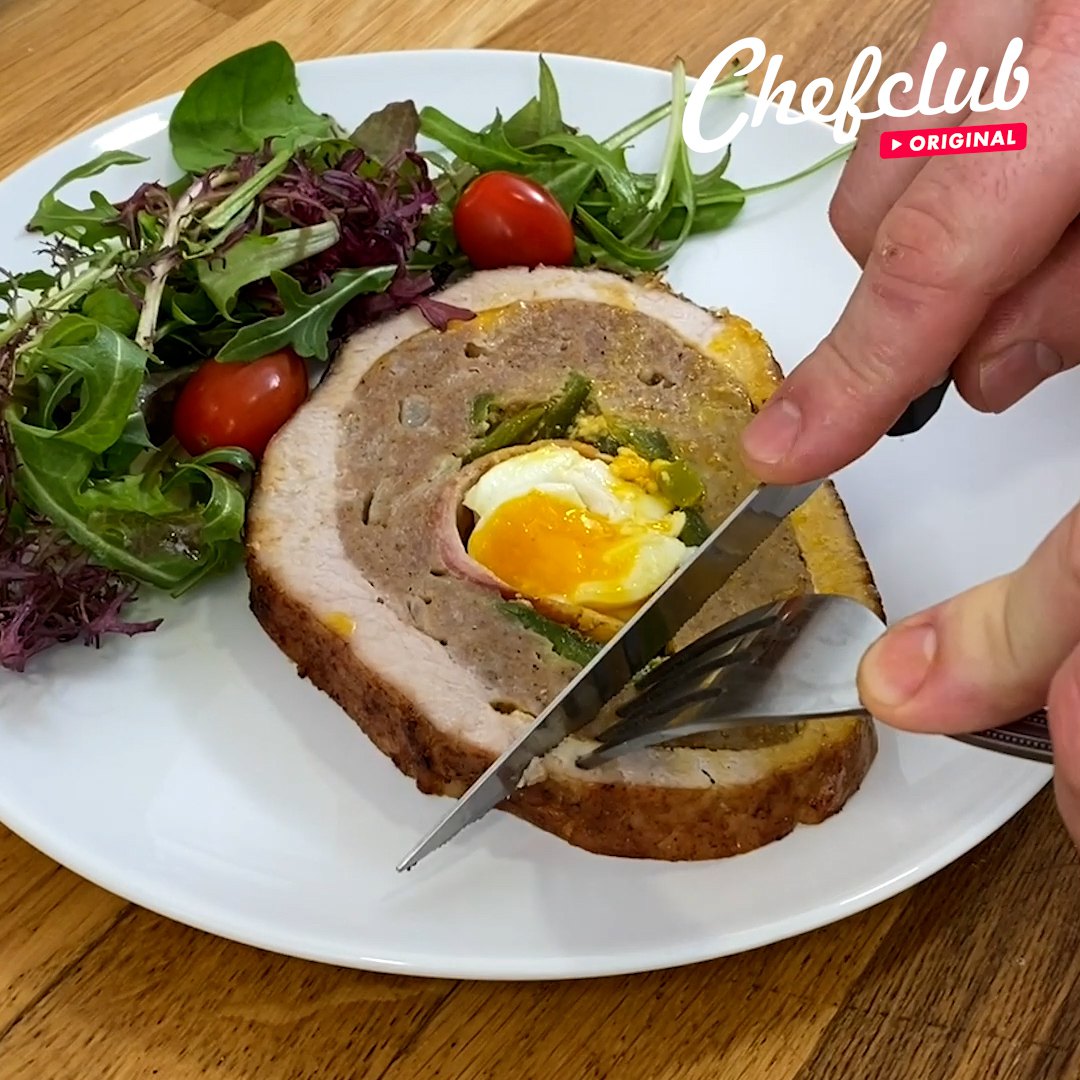 Mega Breakfast Loaf
A mega meal for a mega appetite!
Made by you!
Ingredients
5 slices bacon
2 lb ground pork
1 tbsp salt
1 tbsp pepper
1 tsp cayenne pepper
1 onion, chopped
1/2 cup cornstarch
2 green bell peppers, chopped
3 lb pork roast
8 slices cheddar cheese
4 tbsp taco seasoning
6 eggs
Salad
Tools
Rolling pin
Foil
Plastic wrap made for cooking
Cotton string
1. For the bacon spiral: Wrap a rolling pin in foil 4 times around. Next, wrap the slices of bacon around the pin until it is completely covered. Place on a baking tray and cook for about 10 minutes at 350 °F until medium brown in color. Let cool. Next make the sausage sheet. Mix the sausage with the salt, pepper, and cayenne pepper. After, add the cornstarch and sliced onion. Mix until thoroughly combined. Place on a baking sheet with parchment paper. Form into a rectangle. Add the green bell pepper slices on top. Press slightly into the meat. Next slice the pork roast. With a fillet knife slice the pork roast in half. Next slice each half in half as seen in the video.
2. Rolling part 1: Place the "bacon rolling pin" on 1 end of the sausage rectangle. Roll up with the help of the parchment paper. Rolling part 2: Place 2 pieces of cheese on 1 end of the sliced pork roast. Place your sausage roll on top and add the other 2 slices of cheese. Roll, carefully, using the parchment paper to help guide it. Add taco seasoning to the entire outside of the rolled pork roll and place on a parchment paper lined baking sheet. Cook for 30 minutes at 350 °F.
3. Cut the plastic wrap made for cooking into quarters. Place one egg in each of them with the help of a small bowl. Tie each egg with one piece of cotton string. Poach in slightly boiling water for 1 minute. Remove and put in a bowl of cold water. Remove the pork from the oven and let rest for 5 minutes. Twist the rolling pin around to loosen and remove from the pork roll. After, do the same for the aluminum foil.
4. In a frying pan, place 2 pieces of cheddar cheese on high heat. Cook the cheese until it is almost crispy. Warm a second empty frying pan on high heat. Place the pork roll on top of the melted cheese in the first frying pan. Add your poached eggs in the center of the pork roll and add 2 slices of cheese on top. Place your other very hot pan on top of the pork roll and quickly flip over the pan ensuring that the pork does not fall out. Let cook for another 2 minutes to let the cheese become crispy. Place on a serving platter and let cool for a few minutes. Lastly slice and serve with a side salad. Enjoy!
Similar recipes from Chefclub