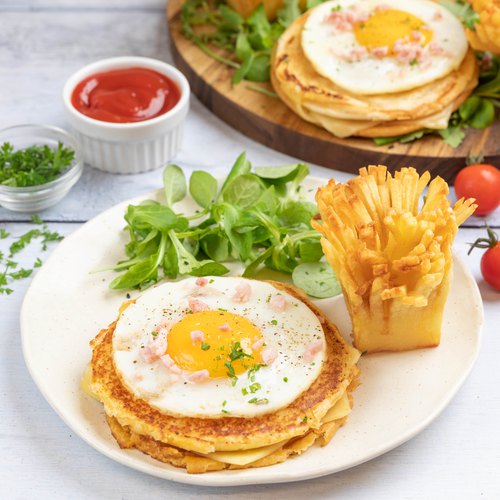 Open Egg Breakfast Sandwich
With pretty potatoes 🍳🥔😊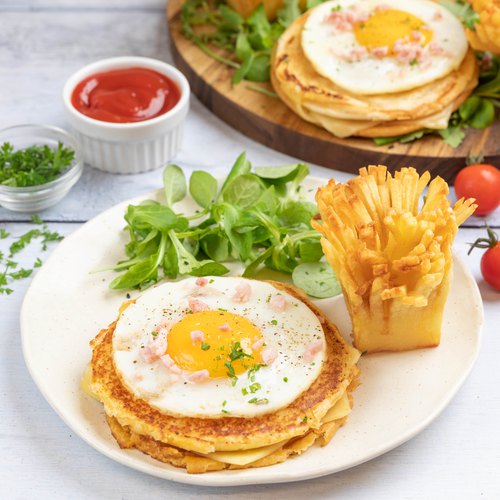 ---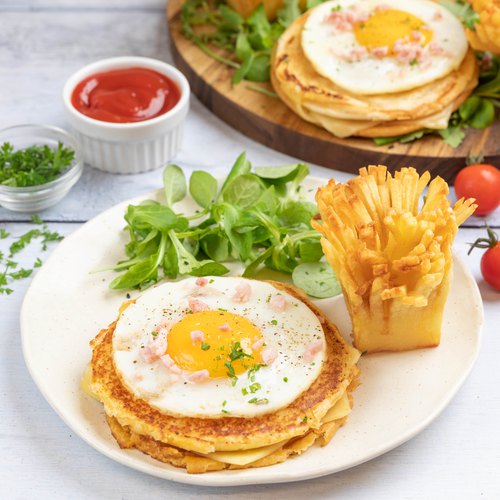 ---
Total time: 45 minutes
Prep time: 30 minutes, Cook time: 15 minutes
Ingredients for 3 people
3 slices of ham
3 hamburger buns
6 slices of cheese
3 eggs
3 potatoes
2 tbsp of chefclub salad seasoning
sunflower oil
butter
parsley
ketchup
---
Tools
Potato masher
Chopsticks
---
Step 1/4
Cut a circle in the ham slice with a glass and save the excess ham. Butter a hot skillet, flatten the burger buns with a pan, and place the flattened bun in the frying pan. Brown and flatten with a potato masher. Add a slice of cheese, the ham circle, another slice of cheese, and a burger bun top (placed upside down). Flatten again with the potato masher and place on a baking sheet. Repeat the same process for the other 2 sandwiches.
Step 2/4
Place the remaining ham slice outline in the pan and cook an egg in the center. Separate the ham slice from the edge of the egg and place the egg on the sandwiches.
Step 3/4
Place a peeled potato vertically between two chopsticks and cut in thin slices, all the way down to the chopstick. Rotate the potato and repeat the same action. Dip the potato in the hot sunflower oil for a few minutes to fry. Repeat the same operation for the other 2 potatoes.
Step 4/4
Serve with a salad garnished with Chefclub's Salad Seasoning, the potato french fries, and ketchup. Sprinkle leftover chopped ham, parsley, and pepper on sandwiches and enjoy!
Similar recipes from Chefclub
-
Our other recipes