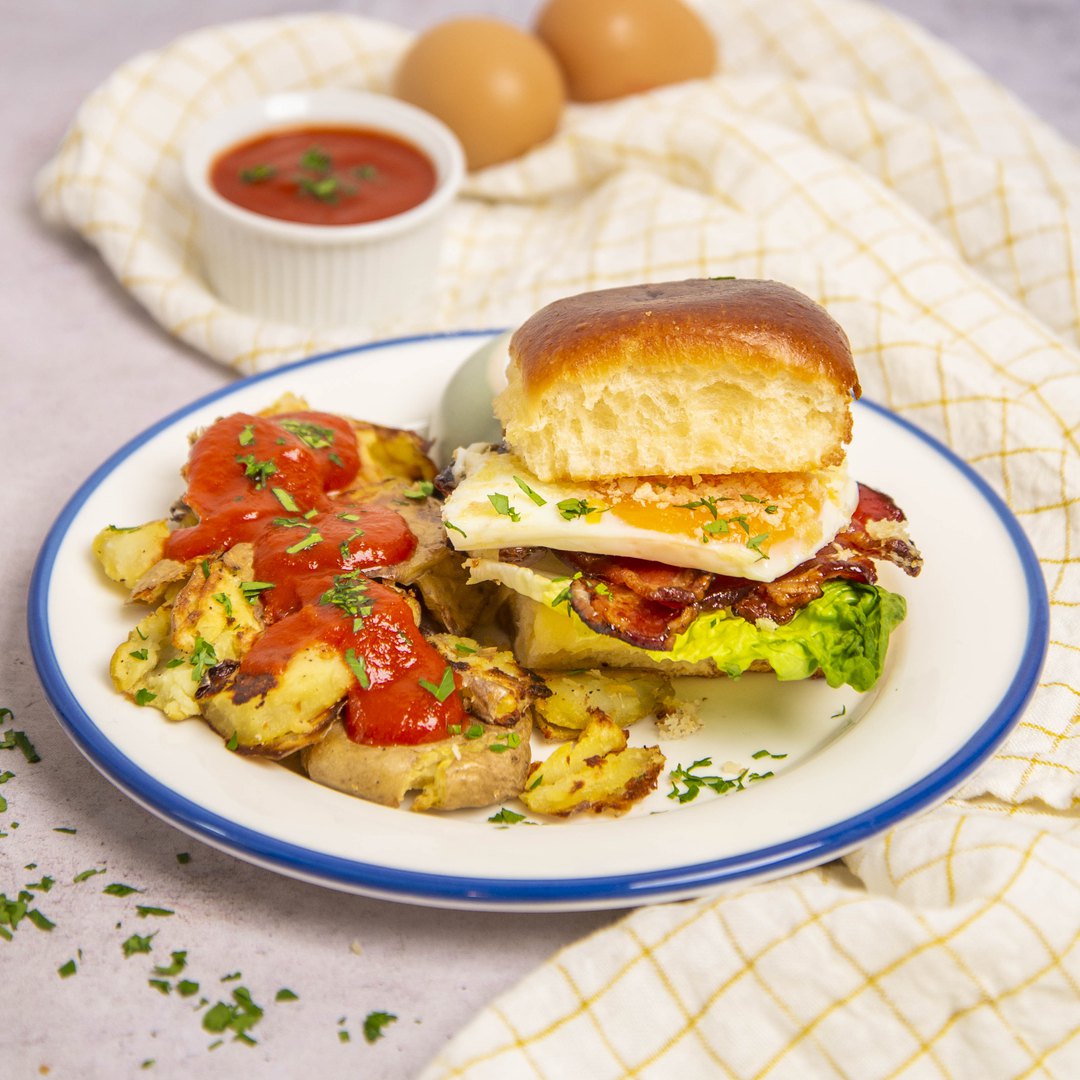 Bacon Breakfast Sandwich
Made for bacon lovers 🥓😍☀️
Made by you!
Ingredients
3 lb small potatoes
Salt & pepper
Olive oil
18 slices bacon
1/2 cup maple syrup
1 1/2 tsp chipotle powder
13 eggs
1/2 cup parmesan
1/2 cup panko
6 slider buns
6 slices swiss cheese
Lettuce
Cilantro
Tools
Parchment paper
2 baking sheets
Cooling rack
6 mini cast iron skillets
1. Cook the potatoes in salted water, bring to a boil, and let cook 10 minutes. Let air dry, place on a baking sheet, and flatten with a glass. Sprinkle with salt, pepper, and olive oil and bake in the oven for 30 minutes at 400 °F.
2. Cut the bacon slices in half and arrange into basket woven squares on a parchment lined baking sheet as seen in the video. Cover with a cooling rack and bake for 12 minutes at 400 °F. While they're cooking prepare the glaze by mixing the maple syrup and chili powder in a bowl. Remove from the oven, dunk each bacon square in the maple syrup, and then return to the oven without the cooling rack for 6 minutes.
3. Crack the eggs onto a rimmed baking sheet, sprinkle with salt and pepper, and bake for 5 minutes at 400 °F. Remove from the oven, sprinkle with parmesan and panko and then return to the oven for 2 more minutes. Meanwhile, prepare the buns by opening them and placing the swiss cheese slices on the bottom buns. Toast in the oven for 7 minutes at 400 °F.
4. Prepare the skillets. Divide the cooked potatoes into 6 skillets. Place a cheesy bun on top of each skillet and garnish with lettuce, a bacon square, 2 cooked eggs, and cilantro. Close with the bun top and dig in!
Similar recipes from Chefclub