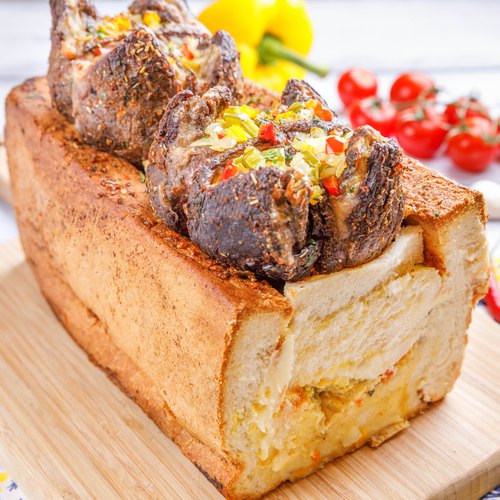 Steak & Eggs Breakfast Bread
You'll absolutely loaf this 🍞😉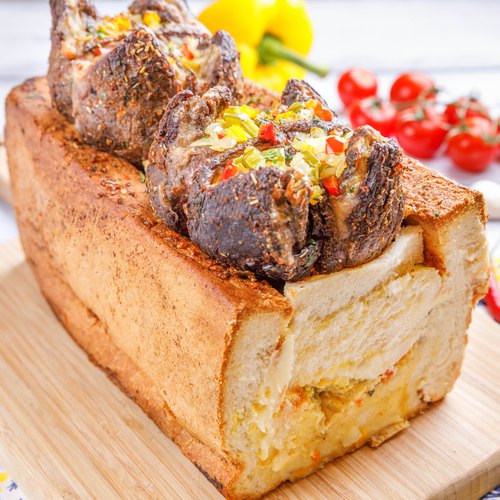 ---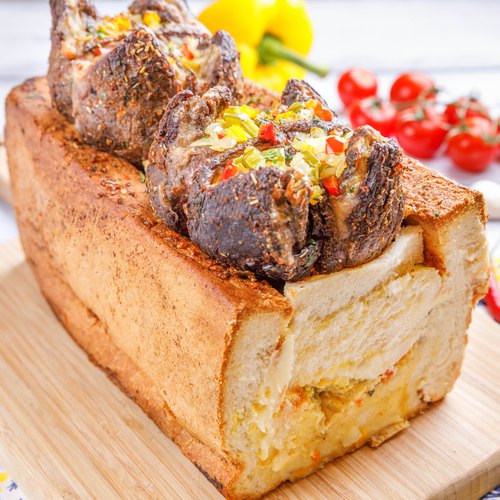 ---
Total time: 1 hour 15 minutes
Prep time: 25 minutes, Cook time: 50 minutes
Ingredients for 6 people
1 large loaf of bread (unsliced)
1 cup of butter
2 tbsp of chefclub ground beef spice mix
10 eggs
1 onion
1/2 yellow bell pepper
1/2 red bell pepper
1/2 green bell pepper
5 cherry tomatoes
olive oil
1/4 cup of heavy cream
salt & pepper
1 lb of ground beef
3 slices of gouda
1 lb of flank steak, thinly sliced
parchment paper
1 1/2 cups of mozzarella
parsley
---
Tools
Kitchen twine
Electric griddle
---
Step 1/4
Cook the diced bell peppers, onion, and cherry tomatoes in a frying pan with olive oil until soft. Set aside. Take an unsliced bread loaf and cut a rectangle out of its surface, about an inch away from the edge. Push the rectangle cube out slightly and cut off the bottom centimeter as seen in the video (save excess bread for later). Set the loaf on your workspace and press down in the center to create a cavity (see video). Melt butter with 1 tbsp ground beef spice mix on an electric griddle and toast the loaf on all sides.
Step 2/4
Pour the remaining butter and herbs into the bassin of the loaf, followed by eggs and sautéed bell peppers, onions, and cherry tomatoes (reserving 1/4 cup sautéed veggies for later). Then add in heavy cream and sprinkle with salt and pepper. Whisk the eggs well and bake for 20 minutes at 350 °F.
Step 3/4
Season the ground beef to your liking, then divide and roll into 3 large balls. Cover each meatball with a slice of Gouda and wrap with a thin piece of flank steak. Make a cross shape with kitchen twine and tie together. Roll in 1 tbsp Chefclub's Beef Spice mix and sear each steak ball on the electric griddle with a drizzle of olive oil until browned on the surface. Remove from heat and cut open the steak meatballs along the kitchen twine to open them up like flowers (see video). Place on a baking sheet lined with parchment paper and bake for 20 minutes at 350 °F.
Step 4/4
Meanwhile, melt the mozzarella cheese in a saucepan until fully melted and smooth in texture. Keep warm. Take the rectanglar bread piece that was cut out and cut out two dividers. Place them in the bread loaf, then pour melted mozzarella into each compartment. Top each square with steak balls and garnish with the remaining sautéed vegetables. Sprinkle with parsley, serve with a salad, and enjoy!