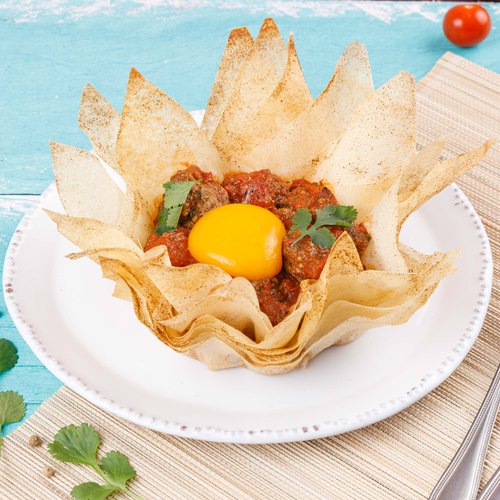 Beefy Egg & Tomato
Beefy Egg & Tomato! The abundant dish you need right now 😁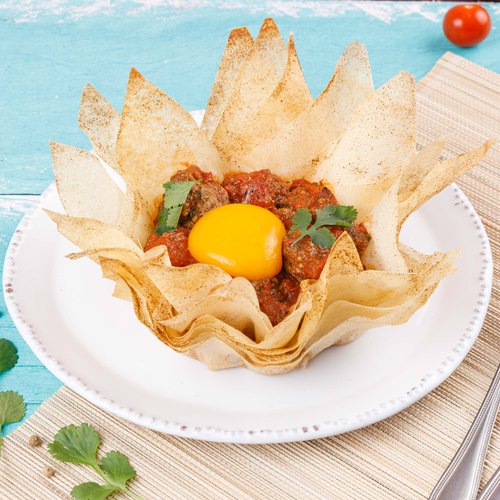 ---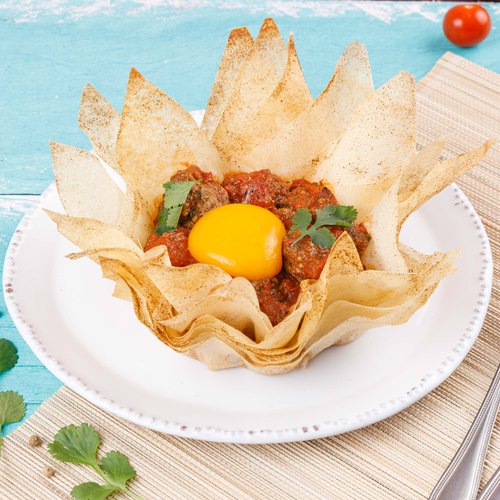 ---
Total time: 1 hour 40 minutes
Prep time: 1 hour , Cook time: 40 minutes
Ingredients for 3 people
30 puff pastries
1 1/2 lbs of ground beef
Cilantro
4 tbsp of olive oil
4 tbsp of chefclub kebab spices
20 cherry tomatoes
Chopped tomatoes
1 tbsp of sugar
3 egg
3/5 cup of apple cider vinegar
Salt & pepper
Salad
---
Step 1/3
Place 10 puff pastry sheets on a cutting boar and cut the pastry sheets to form a triangle. Take a plate, press the edge on top of the pastry sheets and turn the plate to shift each of the pastry sheets. Pour the oil and the Chefclub kebab spices into a saucepan, dip the tips of the leaves in the Chefclub kebab spices, then place them in an oiled bowl. Place an inverted glass over the puff pastry sheets, turn everything over and place the glass on a baking sheet. Repeat the process twice to obtain 3 glasses and bake for 20 minutes at 260°F.
Step 2/3
Put the meat in a bowl, cut the cilantro before mixing it with the meat. Spread the meat on a cutting board, cut into squares and cook them in the hot pan with the Chefclub kebab spices. Cook the cherry tomatoes in another pan with a drizzle of olive oil, crush them and remove the stems from the tomatoes. Pour the crushed tomatoes, salt, pepper and sugar, mix then add the sauce to the meatballs.
Step 3/3
Take out the pastry domes, remove the bowls and bake again for 10 minutes at 260°F. Serve the puff pastry flowers on a salad, pour the meatballs with tomato sauce inside and season everything with a little pepper. Pour the apple cider vinegar into a container, break the eggs, separate the white from the egg yolk and put the egg yolks in the cider vinegar. Place each egg yolk inside the puff pastry flowers, add a few cilantr leaves. Serve and enjoy!