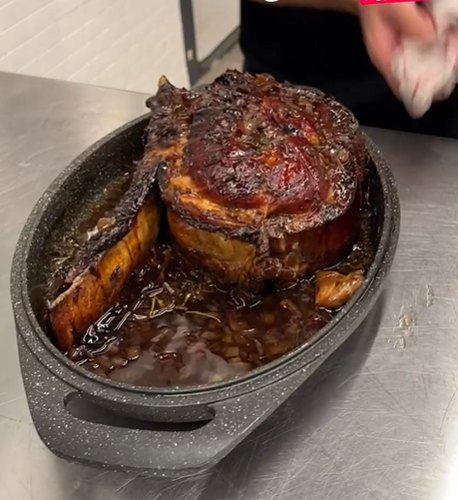 Fried Potato Ball & Ribs
Fried Potato Ball & Ribs! Bring on the gravy 😉🍖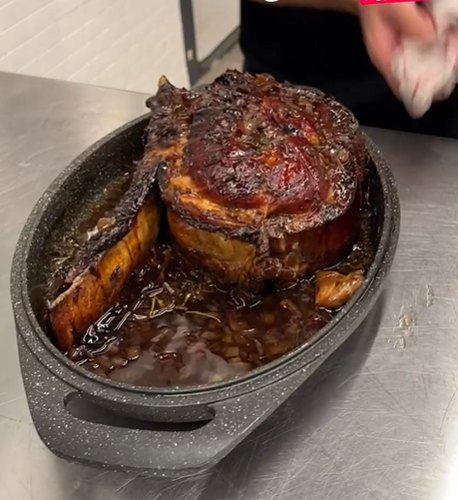 ---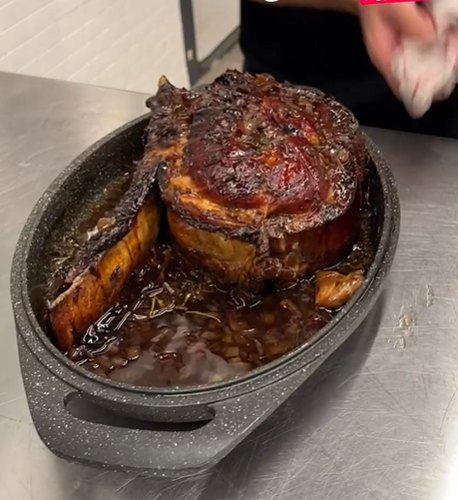 ---
Total time: 1 hour 40 minutes
Cook time: 40 minutes, Rest time: 1 hour
Ingredients for 4 people
12 slices of bacon
1 ribs
4 tbsp of worcestershire sauce
3 lbs of hamburger patties
5 cups of mashed potatoes
1 cup of cornstarch
1 cup of gravy
1 cup of peas
1 cup of carrots
3 1/2 cups of beef stock
1 onion
4 cloves
Rosemary
2 cups of red wine
---
Tools
Kitchen twine
---
Step 1/4
Add cornstarch to the mashed potatoes and mix. Place in a piping bag and pipe a basket design on the backside of a muffin mold. Place in the freezer for 1 hour (reserve 1 cup of the mixture). Fry the basket pieces in hot oil until godlen fill with peas, carrots and gravy. Use leftover mashed potatoes to close the 2 halves.
Step 2/4
Take a short rib and slice down near the bone but not completely through. Butterfly the meat lengthwise twice. Shape the hamberger patties into a large ball and wrap in bacon slices. Wrap the rib around the meatball, season with salt and pepper. Secure with kitchen twine.
Step 3/4
In an oven safe pan, add in oil just to cover the bottom and then sear each side of the meat. Remove the meat from the pan. Add in the chopped onions, garlic, rosemary and ¼ of the beef stock. After the mixture has cooked for 5 minutes, add the meat to the pan. Pour in the rest of the beef stock and red wine. Bake 30 minutes at 375°F.
Step 4/4
Allow the meat to rest 10 minutes. Slice and serve with the potato balls. Enjoy!