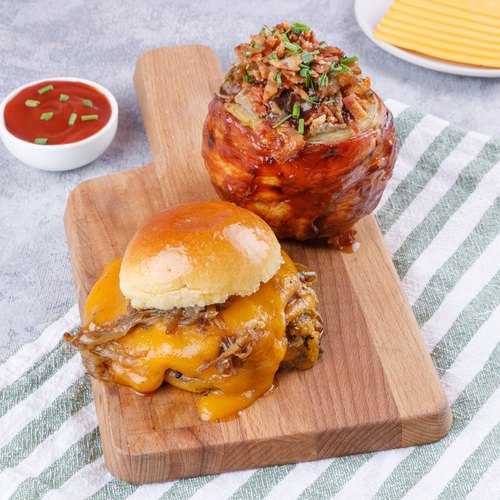 Bacon-wrapped Baked Potato & Cheeseburger Sliders
Bacon-wrapped Baked Potato & Cheeseburger Sliders! It's as delicious as it sounds :)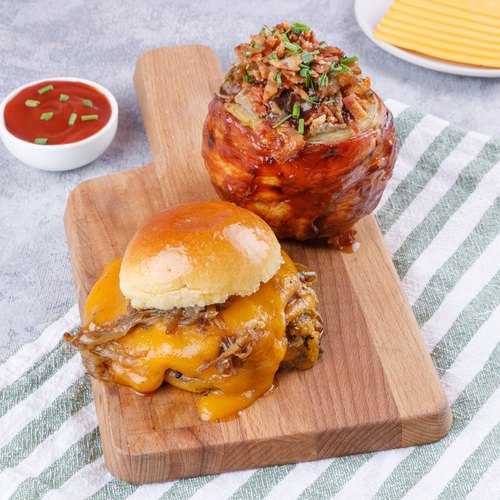 ---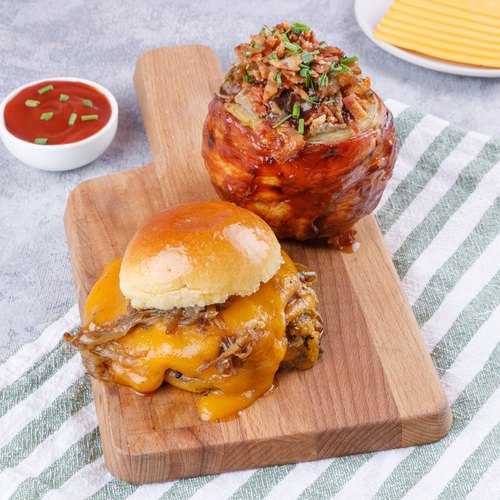 ---
Total time: 1 hour 15 minutes
Cook time: 1 hour 15 minutes
Ingredients for 6 people
48 slices of cheddar
1.3 lbs of ground beef
6 burger buns
Salt & pepper
1 tsp of garlic
1 butter sword
2 potatoes
23 slices of pickles
3 slices of bacon
Chives
1 tbsp of sour cream
3 caramelized onions
Beer
---
Tools
Toothpicks
---
Step 1/5
Precook onions and caramelize in beer. Make mini burger patties with ground beef and season with salt, pepper, garlic powder and paprika. Butter up hot grill with a homemade "butter sword" then place patties and smash them. Butter second grill and place buns face down.
Step 2/5
Cook for about 2 - 3 minutes and flip patties. Cover them all in a double portion of cheddar cheese slices then place tops. Place one out of two to cover half the patties then double up the patties.
Step 3/5
The bottom of the buns should have yellow mustard and also the caramelized onions. Place cheeseburgers on the bottom buns and top with a couple of dill pickle slices.
Step 4/5
Bake large potatoes in oven with olive oil salt and pepper for 1 hour at 350°F (cover in foil).
Step 5/5
Remove the potatoes from oven. Using tongs, remove the center, then mix it with melted butter, sour cream, shredded cheddar, chives, bacon salt and pepper. Roll bacon around the hollowed-out potato and use a toothpick to secure the bacon. Stuff the potatoes with the mixture. Top with sour cream and shredded cheddar. Bake at 350°F for 10-15 min, serve with burgers, enjoy!