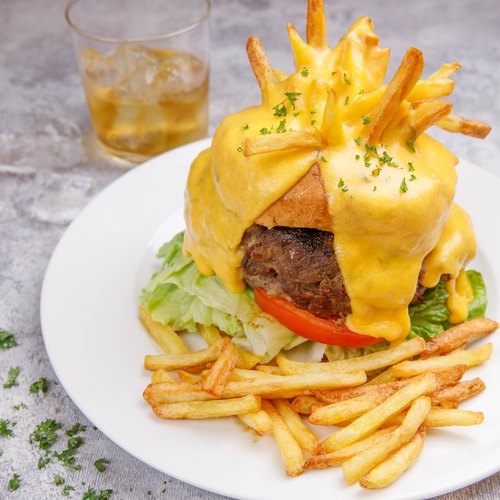 The Juiciest Burger Ever & Its Whiskey Cheese Sauce
Have you ever seen that technique before? :)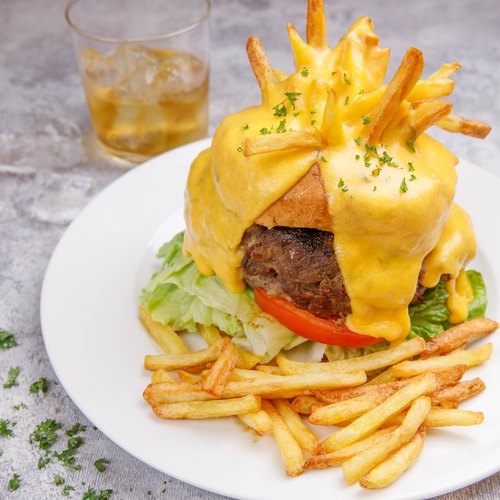 ---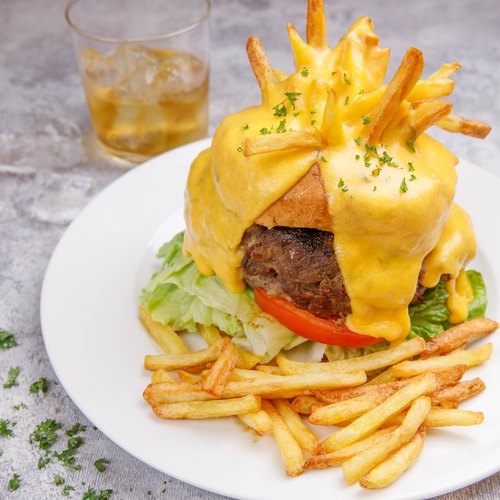 ---
Total time: 1 hour 45 minutes
Prep time: 20 minutes, Cook time: 25 minutes, Rest time: 1 hour
Ingredients for 6 people
whiskey
2 tbsp of tarragon
3 cups of grated cheddar
1 bag of frozen french fries
2 lb of ground beef
1/2 cup of caramelized onions
6 slices of grilled bacon
salt & pepper
1/4 cup of worcestershire sauce
1/2 cup of brown sugar
1/4 cup of tabasco
3 burger buns
lettuce
2 tomatoes
---
Tools
Electric griddle
Muffin tin
Skewers
---
Step 1/5
Pour the whiskey into each cup of a muffin tin, then add crushed ice cubes, followed by water. Sprinkle with fresh tarragon and place in the freezer for 1 hour.
Step 2/5
Heat the cheese and 2 of the whiskey ice cubes in a saucepan. Cook over medium heat while stirring. Once all of the cheese has melted, set to the side and keep warm. Then prepare French fries according to package instructions.
Step 3/5
Mix the ground beef with caramelized onions, chopped bacon, 2 tsp salt, and 1 tsp pepper. Next divide the meat and form 3 large patties. Poke small holes in the top of each pattie with a skewer, then top each one with Worcestershire sauce, tabasco, and brown sugar.
Step 4/5
Flip the burgers upside down onto the electric griddle over medium-high heat and top each burger with Worcestershire sauce, tabasco, and brown sugar. Then, remove the large ice cube blocks from the muffin tin and place one whiskey ice cube into each burger. Let cook for 2-3 minutes, then flip over. Cook another 3 minutes, then cook on low to your desired finish.
Step 5/5
Place the bottom buns on their serving plates, followed by lettuce, tomato, and the burger. Cut a small hole out of the burger bun tops, then top the burgers and place a handful of French fries in the hole. Drizzle with the warm cheese sauce and enjoy!