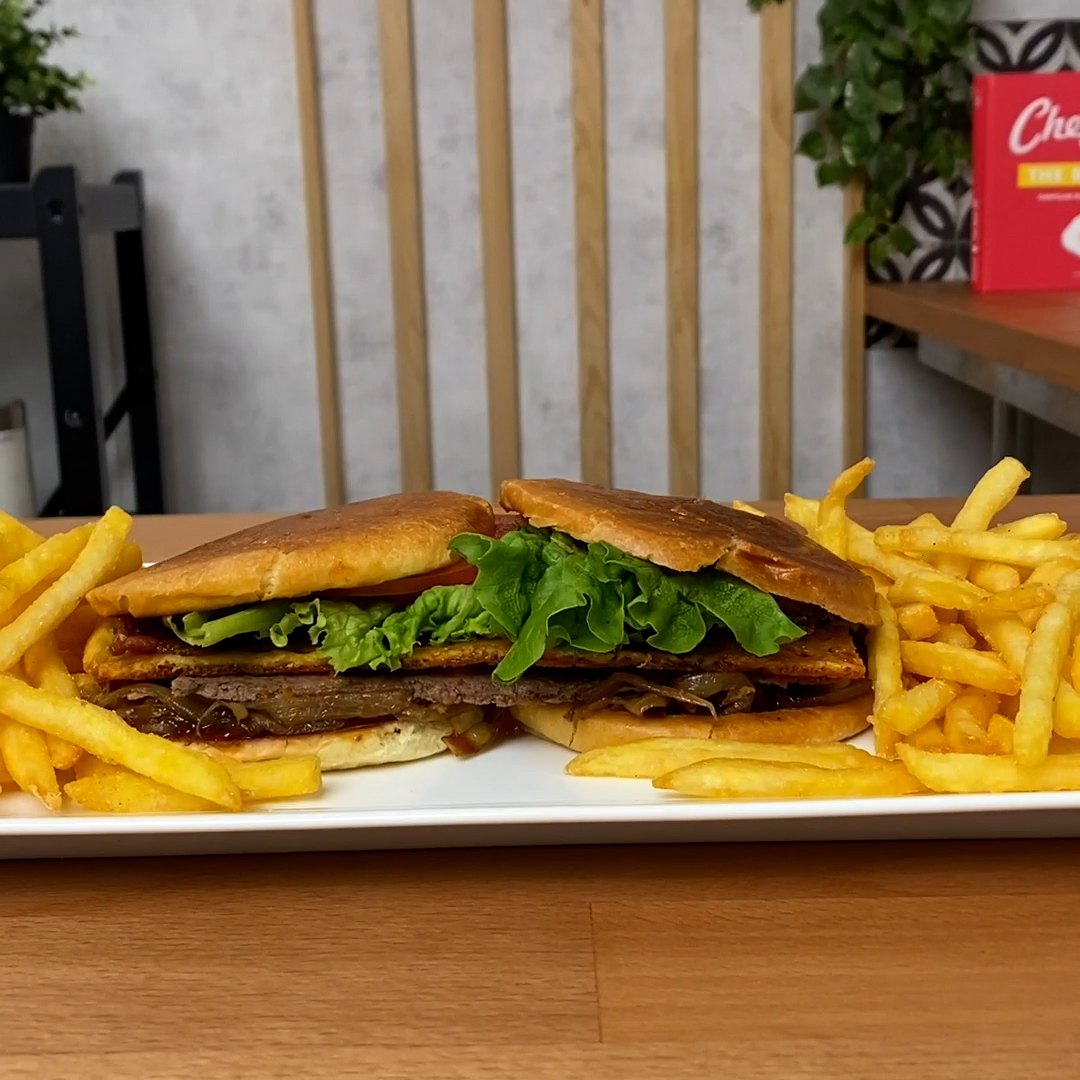 Double Bun Cheeseburger
The best burger combo 🥓🍔🤩
Made by you!
Ingredients
4 buns
4 tbsp butter
2 onions
1/2 lb ground beef
Salt & pepper
1 tsp olive oil
8 slices bacon
8 oz shredded cheddar
4 oz shredded monterey jack
2 tbsp flour
1 cup milk
8 oz American cheese slices
Barbecue sauce
Lettuce
Tomato
Fries
Tools
Parchement paper
Scissors
1. Slice the buns almost in half, leaving a small hinge on one side. Place the buns in frying pan with 1 tbsp butter to toast. Smash the buns flat. Turn over the buns, toast, and smash again. Repeat with the other two buns. Set aside. Heat 1 tbsp butter in a frying pan and cook the onions over medium heat, stirring occasionally, until translucent and slightly browned. Remove from the pan.
2. Mix the ground beef, salt, and pepper in a bowl. Place the ground beef onto a sheet of parchment paper and cover with a second sheet of parchment paper. Roll the beef out as flat as possible with the rolling pin. Once flattened, cut 4 even rectangular shapes approximately the size of the toasted buns, keeping in mind that the beef will contract slightly when cooked. Heat the olive oil in a frying pan over medium heat. Remove one side of the parchment paper from the beef rectangles and place them beef side down in the pan. Place a heavy pot over the beef and cook for one minute. Flip the patties, being sure to remove the second piece of parchment paper, and cook for about 30 seconds. Set aside the cooked patties and cover with a heavy plate or another pot to keep the flattened shape.
3. Cook the bacon in a frying pan and set aside. Add half of the shredded cheddar and monterey jack cheeses to the pan and form a rectangle that will fit just inside two of the buns. Add 4 pieces of the cooked bacon on top of each cheese shape. Cook until the cheeses slightly brown and form a crust around the edge. Remove from the heat and let the cheese cool and harden just slightly. Repeat with the remaining cheese and bacon.
4. For the cheese sauce: In a small saucepan over medium-low heat add the remaining 2 tbsp of butter. Then add the flour, mix well, and cook until slightly golden in color. Add the milk and stir well. Add the cheese slices and continue to stir until all of the cheese has melted. Pour into a bowl and set aside. Assemble the burgers by garnishing the buns with the following ingredients: barbecue sauce, cooked onions, a beef rectangle, 1 bacon-cheese rectangle, a second beef rectangle, lettuce, and tomato. Serve with the cheese sauce and your favorite fries. Enjoy!
Similar recipes from Chefclub