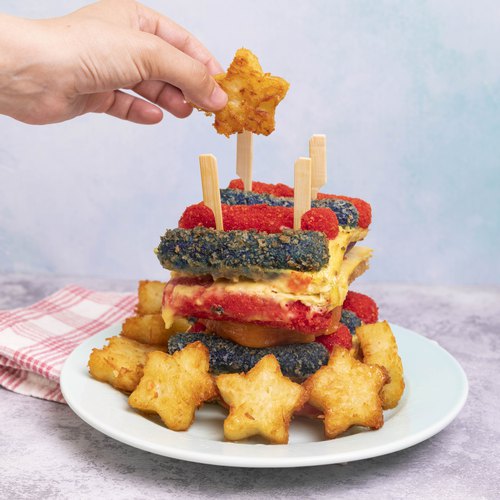 Mozzarella Stick Burger
A double decker burger made for cheese lovers! 🧀🍔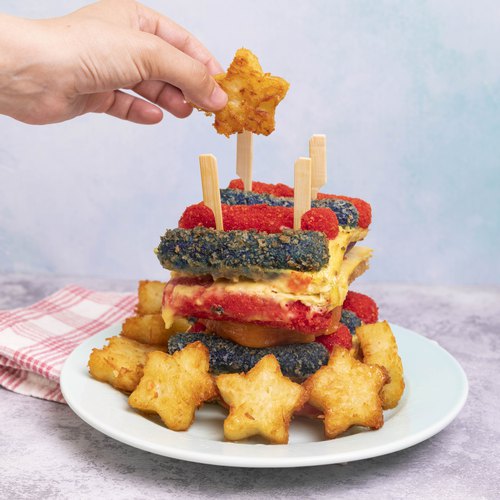 ---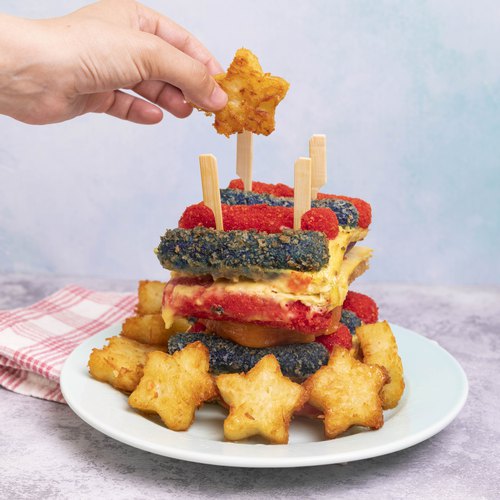 ---
Total time: 1 hour 20 minutes
Prep time: 35 minutes, Cook time: 15 minutes, Rest time: 30 minutes
Ingredients for 3 people
1 bag of flamin' hot cheetos
1 bag of takis blue heat or blue chips of choice
15 string cheese sticks
1 cup of flour
13 eggs
3 tbsp of chives
1 cup of milk
1/4 cup of butter
salt & pepper
6 slices of bread
1 red bell pepper
1/2 lb of ground beef
1 tbsp of worcestershire sauce
3 slices of cheddar
2 tbsp of chefclub barbecue seasoning
3 tomato slices
6 lettuce leaves
1/4 red onion
1 avocado
fries
---
Tools
Parchment paper
Rimmed baking sheet
Toothpicks
---
Step 1/4
Crush both of the chips with a rolling pin. Cut off an inch from one end of each of the cheese sticks, and coat in flour and 3 beaten eggs. Coat half of the cheese sticks in the blue chips and the other half in the red chips. Place on a parchment lined baking sheet and place in the freezer for 30 minutes.
Step 2/4
Remove the cheese sticks from the freezer and deep fry in hot oil at 350 °F for 20 seconds each. Set aside. In a large bowl whisk 10 eggs, chives, and milk. Grate the butter onto a baking sheet and bake for a few minutes at 350 °F. Remove from the oven, pour in the omelet mix, and sprinkle with salt & pepper. Place 6 slices of bread down the center of the baking sheet and place 5 mozzarella sticks on both sides of the bread as seen in the video. Bake for 10 minutes at 350 °F.
Step 3/4
Meanwhile, core a red bell pepper and cut 3 rings 1 inch in thickness. Mix the ground beef with Worcestershire sauce, salt, and pepper, and divide between the 3 bell pepper rings. Pack the meat down and sprinkle with Chefclub barbecue seasoning. Fry the burgers in a hot pan with a little of olive oil, then top with cheddar cheese, cover with a lid, turn off the heat, and let rest 2 minutes.
Step 4/4
Flip the egg bake onto a cutting board and cut into 3 sections lengthwise. Garnish each sandwich with a tomato slice, lettuce, chopped red onion, and avocado slices, then slice in half and fold over the edges to reveal the mozzarella sticks. Garnish with the red bell pepper & cheese patty and close with the remaining mozzarella stick sandwiches. Insert a toothpick into each corner of the sandwich, serve with fries, and enjoy!