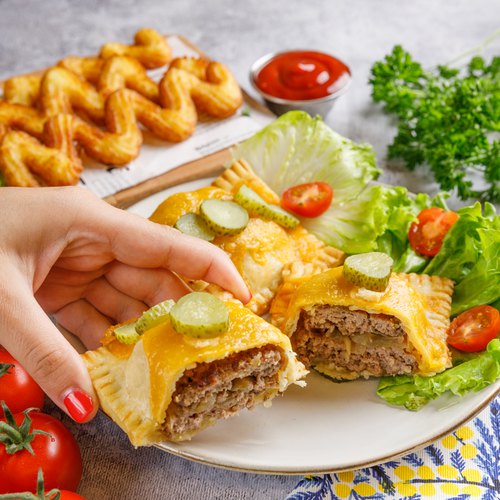 Pop Cheeseburger
Like a pop tart, but filled with beef 🥩🍔😋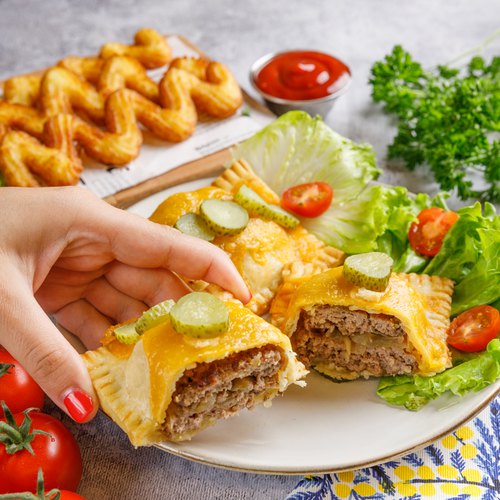 ---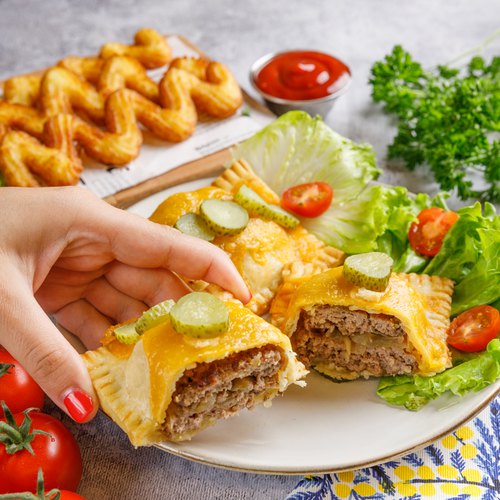 ---
Total time: 2 hours 35 minutes
Prep time: 40 minutes, Cook time: 25 minutes, Rest time: 1 hour 30 minutes
Ingredients for 4 people
1 1/2 cups of flour
salt
8 tbsp of butter
1 lb of yukon gold potatoes
1 egg
4 tbsp of cornstarch
sunflower oil
12 oz of ground beef
1 onion, sautéed
3 slices of cheddar
pepper
---
Tools
Plastic bag
Food processor
Piping bag
Pastry tip
Long spatula
Paper towels
---
Step 1/4
Prepare the dough by mixing the flour and 1/2 tsp salt in a food processor, then slowly pulse in the butter until peas form. Add 2-3 tbsp ice water mixture over the flour mixture and pulse. Then add 2-3 more tbsp ice water and continue to pulse until a dough forms. Place on a floured surface, create a disk, and place in a plastic bag to sit in the fridge one hour or overnight.
Step 2/4
Peel and boil the potatoes, then mash them until very smooth. Mix with the egg and cornstarch, place in a piping bag with a pastry tip, and draw zigzag lines onto a long oiled spatula. Submerge in hot oil at 325 °F and cook the fries until golden brown. Set aside on paper towels.
Step 3/4
Roll out the chilled dough onto a lightly floured surface into a 12x10 inch rectangle (about 1/4 inch thick). Cut the dough into eight 5x3 inch rectangles. Place the rectangles onto a parchment lined baking sheet and refrigerate. Place 8 ground beef balls on a sheet of parchment paper, flatten with a baking dish, and form into rectangles slightly smaller than the dough rectangles. Add the sauteed onions to the tops of four of the burgers, then cut one slice of the cheddar into 4 squares and add on top of the onions. Fold the parchment paper over to cover these 4 patties as seen in the video.
Step 4/4
Cook the patties in a hot frying pan with 1 tbsp sunflower oil to your desired tempetature and season with salt & pepper to taste. Set aside on paper towels to remove excess oil, then place the patties on the dough rectangles. Cover the patties with a second rectangle, seal the edges with a fork, poke the surface with a fork, and bake in the oven for 15 minutes at 350 °F. After about 10-12 minutes, place a 1/2 slice cheddar on top of each pop burgers and return to the oven for a few more minutes. Serve with a salad, pickles, ketchup, and fries. Enjoy!