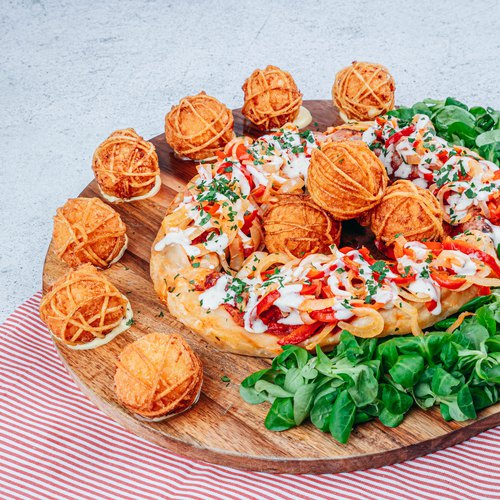 Brats & Cheesy Potato Balls
Brats & Cheesy Potato Balls! Elevate your snack game with this recipe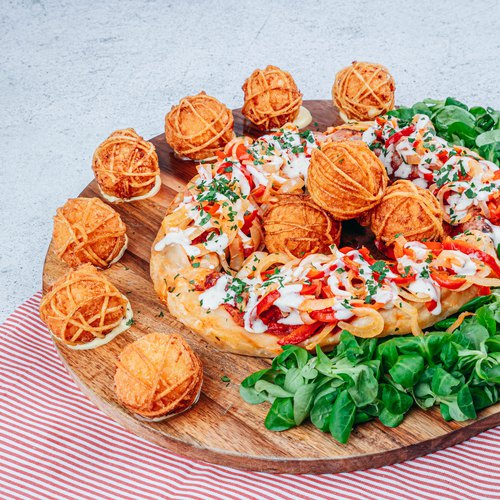 ---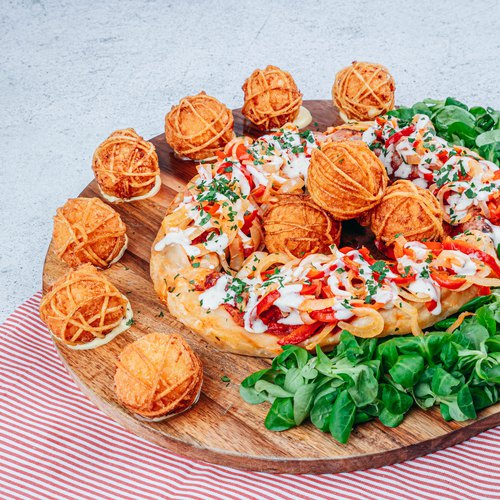 ---
Total time: 1 hour 15 minutes
Prep time: 10 minutes, Cook time: 35 minutes, Rest time: 30 minutes
Ingredients for 3 people
Mozzarella
Cheddar
Potatoes
Breadcrumbs
Egg
Oil
Sausages
Pizza dough
Chefclub pizza spice mix
Tomato sauce
Sautéed onions
Sautéed bell peppers
Garlic aioli
Ranch dressing
Herbs
---
Tools
Spiralizer
---
Step 1/3
Form the mozzarella and cheddar cheeses into balls, then dredge them in flour, dip in eggs, and coat with breadcrumbs. Refrigerate them. Create potato strings using a spiralizer and use them to wrap the cheese balls. Fry the cheese balls in hot oil until they turn golden brown.
Step 2/3
Begin by dividing the pizza dough into three equal-sized rectangles. Sprinkle both cheeses and pizza seasoning over the dough. Enclose the cheeses by folding the dough over, and then add tomato sauce and cooked sausages on top. Press the dough around the sausages and shape them to form a triangle. Bake in an oven preheated to 400°F for 15-18 minutes.
Step 3/3
Add sautéed onions and bell peppers on top of the sausages, then drizzle them with ranch and sprinkle some fresh herbs. Accompany the cheesy potato balls with garlic aioli and serve. Enjoy!