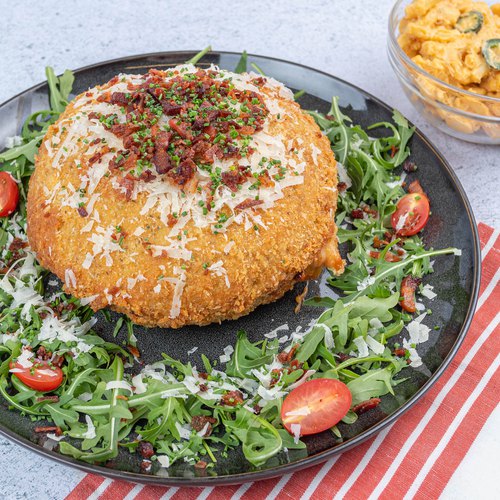 Giant Crispy Pork Sausage Pasta Bomb
Giant Crispy Pork Sausage Pasta Bomb! A savory explosion of pasta, sausage, and cheese in every bite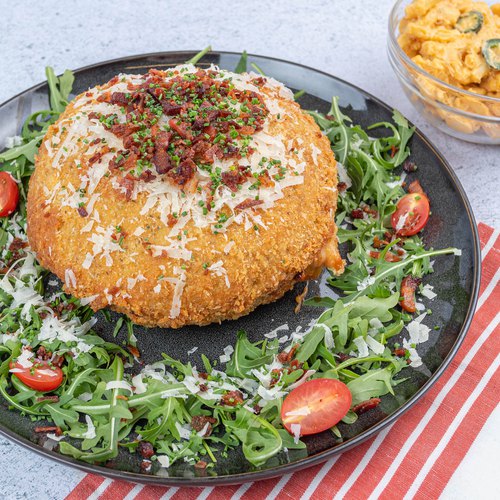 ---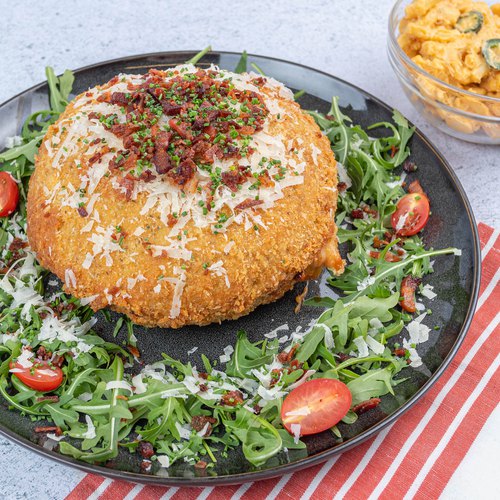 ---
Total time: 2 hours 25 minutes
Prep time: 10 minutes, Cook time: 15 minutes, Rest time: 2 hours
Ingredients for 4 people
1 lb of ground sausage
3 cups of cheddar
2 cups of chili con carne
2 cups of macaroni and cheese
1 cup of flour
4 egg
2 cups of breadcrumbs
1 cup of sour cream
3 tbsp of chives
2 oz of bacon bits
Pecans
Jalapeños
Herbs
Parsley
Oil
Salad
Cherry tomatoes
---
Tools
Cling wrap
---
Step 1/3
Separate the ground sausage in half. Cover the tortilla press with a layer of cling wrap, place the sausage, pecans, and herbs on it, and flatten by applying pressure. Repeat the process with the remaining ground sausage to create 2 discs.
Step 2/3
Take one of the sausage discs and put it into a bowl. Layer it with shredded cheddar, jalapeño mac and cheese, chili con carne, cooked bacon bits, and more shredded cheese. Cover with the second sausage disc and mold the contents into a ball. Place in the freezer to set.
Step 3/3
Peel off the cling wrap from the patty. Dredge it in flour, then dip it in beaten eggs and coat it with breadcrumbs. Fry the patty in hot oil until it turns a golden brown color. Garnish with a dollop of sour cream and a sprinkle of parsley. Serve alongside a salad and cherry tomatoes. Enjoy!