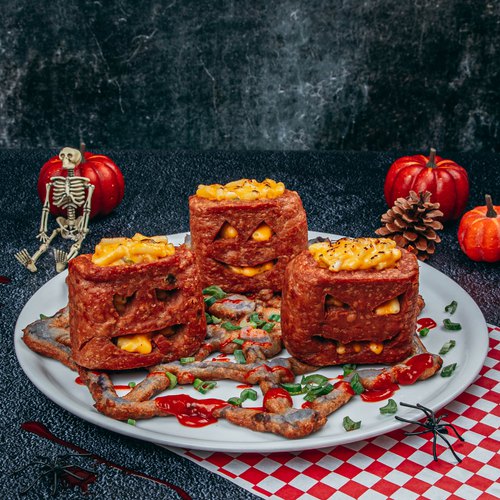 Brainy Spam Mac & Cheese
Brainy Spam Mac & Cheese! You will lobe this festive recipe 🧠🧀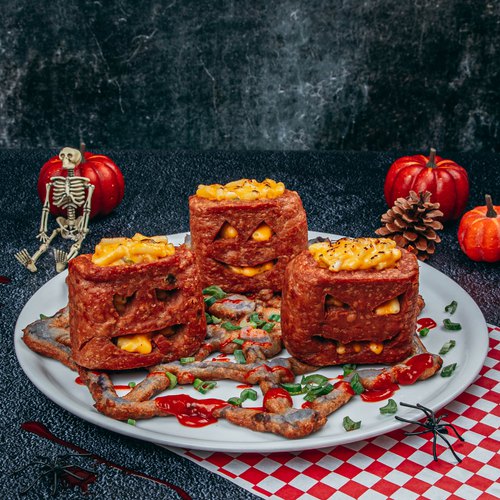 ---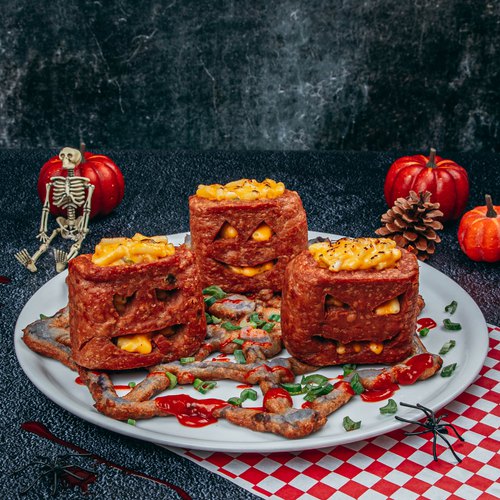 ---
Total time: 1 hour
Cook time: 1 hour
Ingredients for 6 people
3 spam
Oil
1 beer
2 tbsp of flour
2 tbsp of butter
4 cups of cheddar cheese
2 cups of milk
Tabasco
1 cup of green onions
2 cups of purple potatoes
1/2 cup of cornstarch
3 egg
Salt
---
Tools
Piping bag
parchment paper
Blowtorch
---
Step 1/4
Mix the cooked purple potatoes with the cornstarch and egg until smooth. Place in piping bag and pipe a spiderweb on parchment paper. Fry in hot oil until golden brown. Remove from oil and season with salt.
Step 2/4
With a knife create a pocket in the spam. Cut a face on one of the sides. Fry in hot oil until golden and set aside.
Step 3/4
Add butter in the casserole dish over medium heat. Once melted add in the flour and use the whisk to mix. Slowly pour in the beer followed by the milk. Add in the cheddar cheese (reserve a handful).
Step 4/4
Add the cooked macaron into the sauce. Mix and then spread the rest of the cheddar cheese on top. Add the tabasco sauce along with the sliced green onions. Brulee the top with a blowtorch. Add the macaroni to the inside of the spam. Place the spam on top of the potato spiderweb. Serve with ketchup and enjoy!