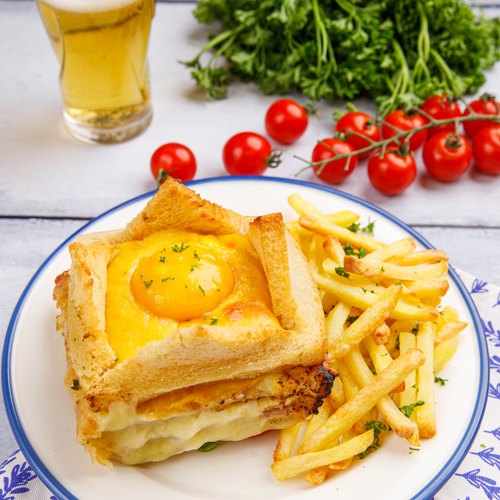 Cheddar Sandwich
Cheddar Sandwich! Taking pub food to the next level 🍺🧀🥪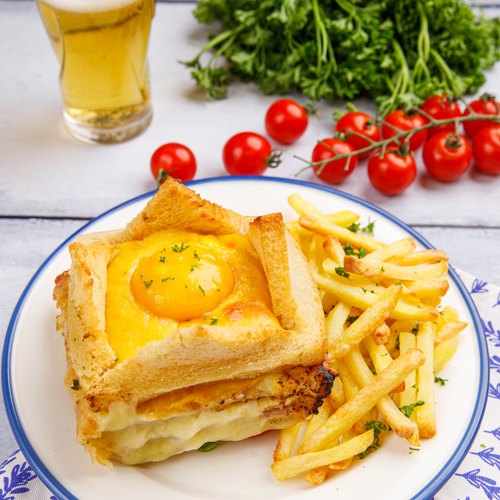 ---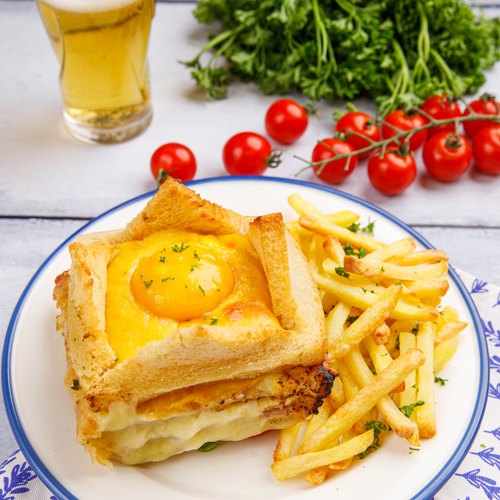 ---
Total time: 58 minutes
Prep time: 30 minutes, Cook time: 28 minutes
Ingredients for 4 people
1 cup of butter
2 tbsp of flour
1 cup of milk
1 tsp of nutmeg
9 oz of cheddar
1 beer
12 slices of sandwich bread
9 oz of emmental cheese
2 slices of ham
4 egg
Parsley
French fries
---
Tools
parchment paper
---
Step 1/3
Melt 1.5 tbsp of butter then add the flour and mix. Gradually add the milk while continuing to mix. Heat over low heat until the bechamel thickens, add the nutmeg, mix and set aside.
Step 2/3
Melt the cheddar with the beer in a skillet over low heat. Butter the sandwich slices in a frying pan then arrange 4 of them lightly superimposed on parchment paper. Cover with parchment paper then flatten the sandwich loaves to seal them together. Pour the bechamel sauce and smooth it with a spoon. Sprinkle with grated emmental cheese, place the slices of ham, cover with 4 other slices of buttered sandwich bread then flatten again. Pour in the bechamel sauce, sprinkle with grated emmental cheese and bake for 20 minutes at 350°F.
Step 3/3
Place 4 slices of sandwich bread on top of the sandwich. Make a cross-shaped incision on each sandwich loaf without going all the way. Open the sandwich slices using the incisions and weld the inner ends together. Pour the cheddar and beer mixture into each opening. Make indentations in each with a spoon and pour 1 egg yolk inside each. Bake for 8 minutes at 350°F. Sprinkle with parsley and serve with fries. Enjoy!