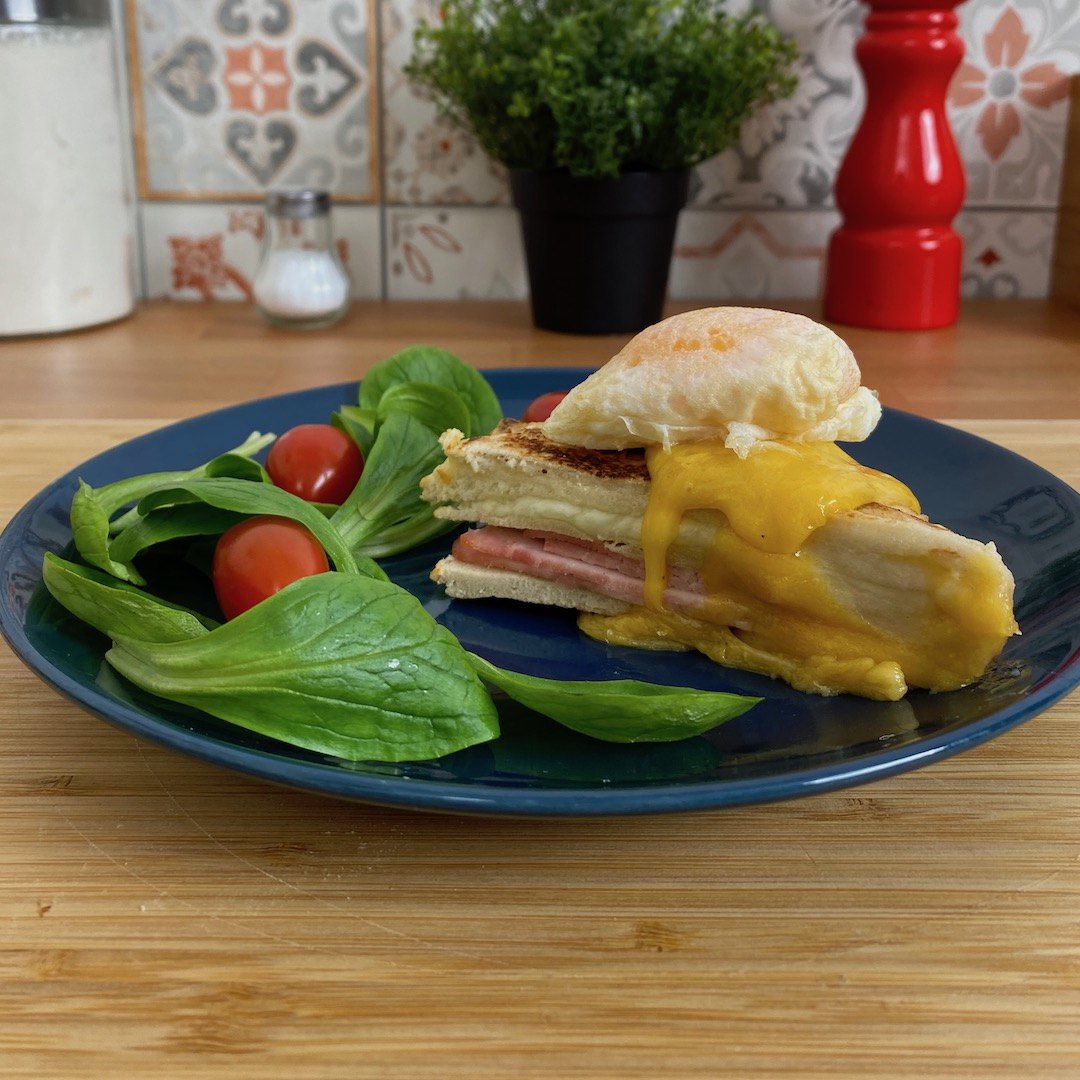 Cheesy Ham & Egg Panini
And it's even better with the sound on 😉🔉
Made by you!
Ingredients
6 eggs
12 slices of sandwich bread
1 cup shredded mozzarella
3 slices ham
2 tbsp butter
2 tbsp flour
1 1/4 cup milk
1 1/4 cup grated cheddar
1 cup beer
Tools
1 clean dish towel
Crepe pan
Slotted spoon
1. Make a sandwich bread tortilla by overlapping four slices of sandwich bread, flattening them, and cutting out a circle. Repeat two more times. Make a cut half way through the three tortillas and set aside.
2. Prepare the bechamel sauce: melt the butter in a saucepan, add the flour, and mix well. Pour in the milk a little at a time, stirring constantly until the sauce thickens. Set aside.
3. Place one sandwich tortilla on the crepe pan. On the first quarter place a handful of grated mozzarella, on the second quarter place a slice of ham, and on the third quarter, 1 tablespoon of bechamel sauce. Add pepper, let cook, take the last empty quarter, and fold over each edge to obtain a triangle. Make 3 paninis and cut them in 2.
4. Prepare the egg pockets by pouring an egg over a slotted spoon above the crepe pan so that just the egg white passes through. Then place the yolk in the middle, let it cook and then fold the egg whites over the yolk as seen in the video. Repeat 3 times.
5. Place the panini triangles in a rectangular baking dish. Sprinkle grated cheddar between the triangles and pour in the beer. Place in the oven for 10 minutes at 350 °F, serve with a salad, and add the melted cheese. Gently place the egg pockets on top and enjoy!
Similar recipes from Chefclub