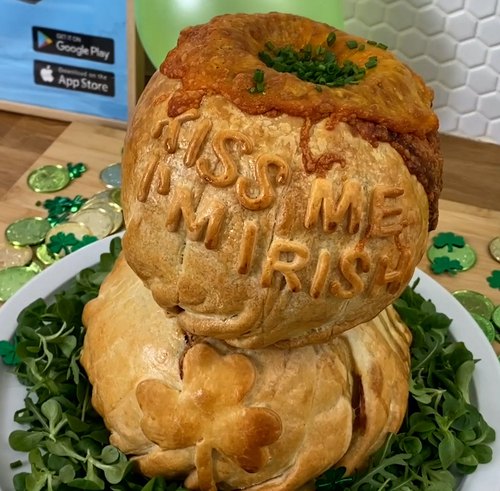 Cabbage Head Stew
The warm and cozy dish just in time for St. Paddy's Day! ☘️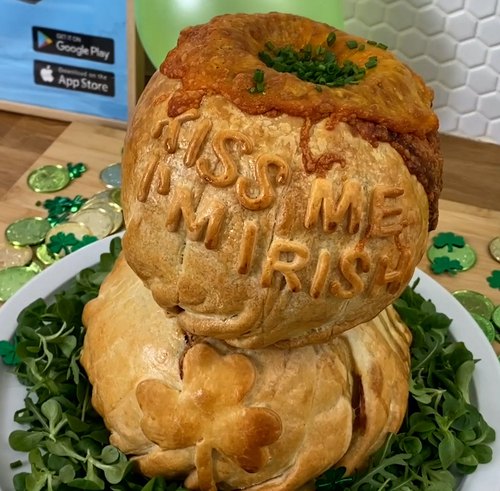 ---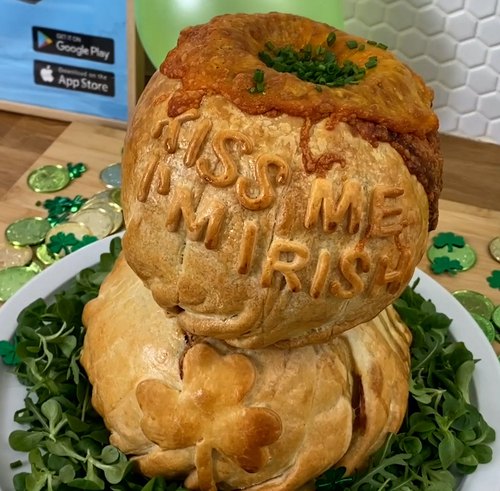 ---
Ingredients for 6 people
2 cabbage heads
4 sheets of puff pastry
2 cups of shredded mozzarella
2 tbsp of chives
1 tbsp of olive oil
1 lb of stew meat
2 tsp of salt
2 tsp of pepper
1 carrot, chopped
1 onion, chopped
3 tbsp of flour
1 can of beer
thyme
bay leaves
beef stock cube
1 egg
1 1/2 cups of shredded cheddar
salad
---
Step 1/3
Cut the cabbage heads so that they stack one on top of the other as seen in the video. Core out the inside of the top cabbage using an ice cream scooper. Save the removed cabbage for later. On a round sheet of puff pastry, sprinkle grated mozzarella cheese and chives in the center and brush the edges with water. Place a second piece of puff pastry on top. Then place the cabbage in the center to trace out a circle and make small slits in the dough. Place the puff pastry sheet over the bottom cabbage head and make a cross cut on top. Take a second sheet of round puff pastry and place the second cabbage on top to trace out a circle and make slits. Cover the hollowed cabbage with the plain dough and stack the two cabbages on top of one another.
Step 2/3
In a sauce pan place the olive oil, stew meat, salt, and pepper. Let cook for about 8 minutes, searing the meat on all sides. Remove the meat and set aside. Add carrots, onions, and the cabbage insides to the same sauce pan and let cook 3 minutes. Stir in the flour and add a can of beer. Season with thyme, bay leaves, and a beef stock cube. Return the meat to the sauce pan and add in 5 cups of water. Let simmer on low for 1.5 hours.
Step 3/3
Place the cabbages on a parchment lined baking sheet. Brush the entire surface with egg wash and stick on letters cut out of puff pastry. Cut open the puff pastry of the top cabbage to reveal the hollowed inside. Fill with ladles full of the stew until filled to the top. Close with a handful of shredded cheddar and bake in the oven for 30 minutes at 350 °F. Remove from oven and dress with salad and sprinkle with chives. Serve up fresh and enjoy!