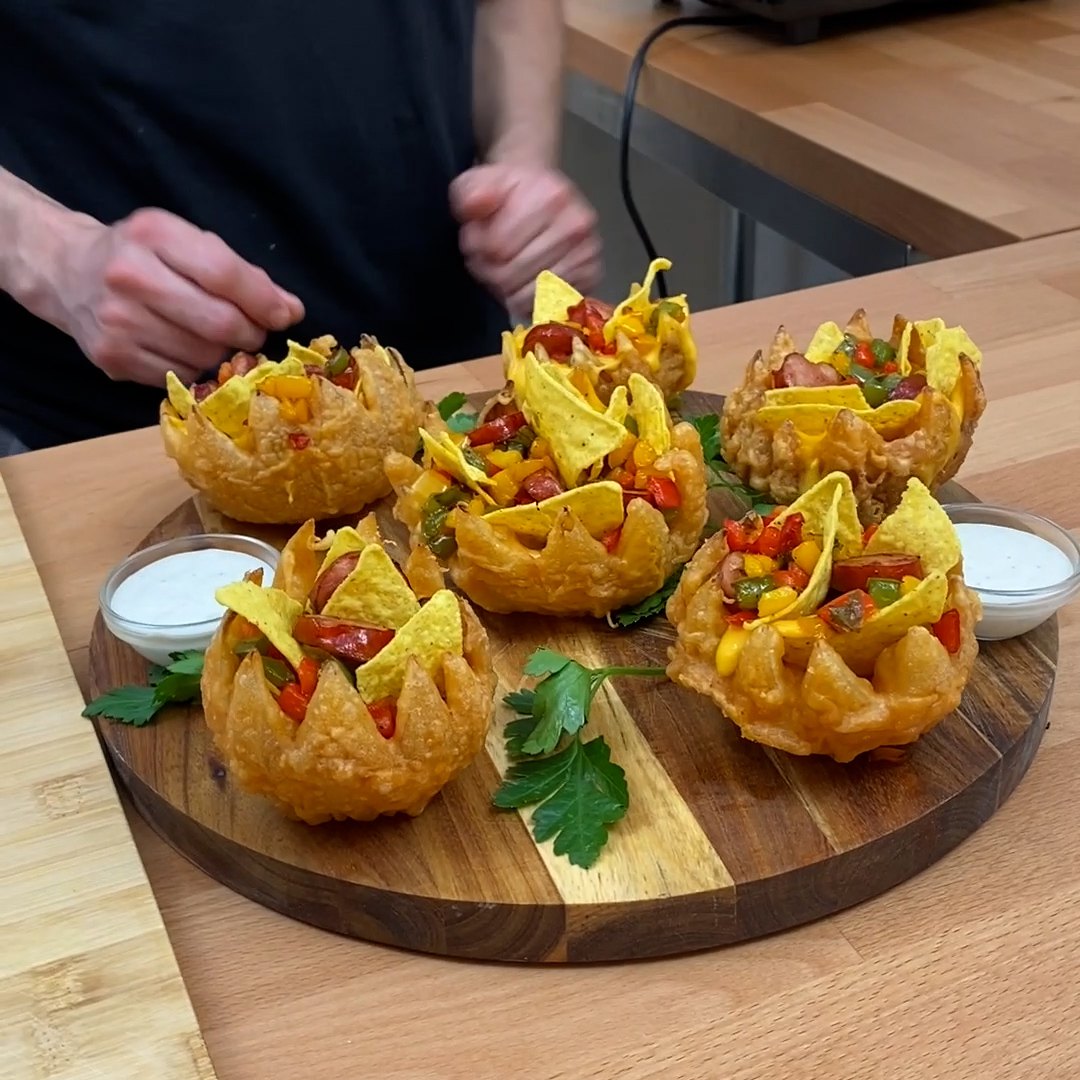 Onion Ring Nachos
Overflowing with cheese and perfectly crunchy 🤤
Made by you!
Ingredients
2 onions
Flour for coating
2 cups beer, divided
2 cups sparkling water
1 1/2 cups cornstarch
1 1/2 cups + 1 tbsp flour, divided
1 1/2 tsp kosher salt
2 1/2 tsp garlic powder
2 1/2 tsp onion powder
2 1/2 tsp cayenne powder
2 1/2 tsp sugar
1 egg
6 cups frying oil
1 tbsp olive oil
1/2 red bell pepper
1/2 green bell pepper
1/2 yellow bell pepper
2 smoked sausages
Salt to taste
3 cups grated cheddar
12 tortilla chips
1. Cut the onions in half crosswise with a zigzag cut as seen in the video. Separate the layers so that you have 6 onion "bowls". Coat evenly in flour and set aside.
2. Next prepare the batter. In a large bowl, add 1 1/2 cups beer and sparkling water. Then mix in the cornstarch, 1 1/2 cups flour, kosher salt, garlic powder, onion powder, cayenne powder, granulated sugar, and egg.
3. Next coat the onion ring bowls in the batter and deep fry them in hot oil until they are golden brown. Place on a cooling rack and set aside.
4. In a frying pan cook the diced bell peppers with the olive oil. Then add in the smoked sausage slices with a little bit of salt. Let cook several minutes, then turn heat to low while preparing the cheese sauce.
5. In a saucepan add in 1/2 cup beer, 1 tbsp flour, and cheddar cheese. Mix until you have a nice thick sauce. Then place the onion ring bowls on a serving plate and add 2 tortilla chips to each one. Top with warm cheese sauce and the sauteed veggie mix. Serve and enjoy!
Similar recipes from Chefclub