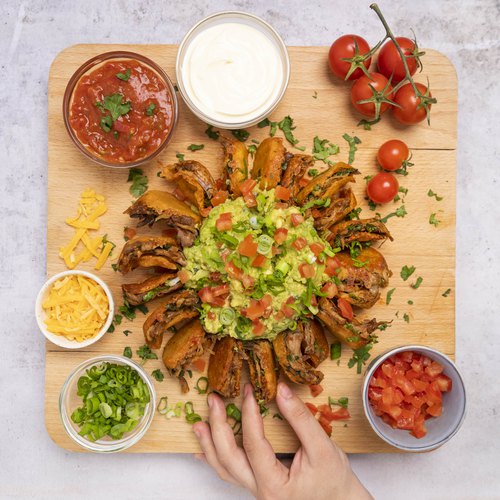 Cheesy Pork Bites
This will guac your world 🥑🌮🤤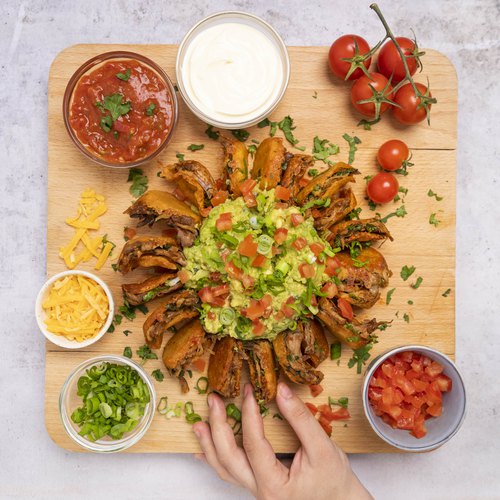 ---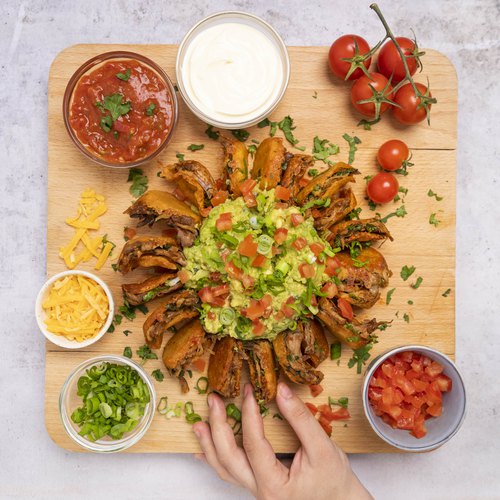 ---
Ingredients for 4 people
1/2 lb of pork shoulder
1 cup of dry spice rub
3 tbsp of olive oil
1 onion
4-6 cups stock
5 avocados
1 1/2 oz of tequila
1/4 cup of red onion, chopped
1/4 cup of tomatoes, diced
1 container of cilantro
1 lime
salt
10 oz of cheddar
2 scallions, chopped
salsa
sour cream
---
Tools
Muffin tin
Blowtorch
---
Step 1/4
Fully coat the pork shoulder with the dry spice rub and let it rest for at least one hour. Once the pork is ready, heat 1 tbsp olive oil in a pot over medium-high heat with the quartered onion. Cook until softened. Then sear the pork shoulder on all sides. Add the stock, ensuring that the pork is completely covered by the liquid. Bring the liquid almost to a boil, then lower the heat to low and simmer the pork for 2-3 hours.
Step 2/4
Cut the avocados in half and remove the skin and the pits. Heat the remaining olive oil in a frying pan over high heat. Add the halved avocados and cook them for one minute. Then, add the tequila and set the liquid on fire with a blowtorch. Let the flame burn out, then place the avocados in a mixing bowl. Add the red onion, tomato, cilantro (reserving about 1 tablespoon), jalapeño, juice of one lime, and salt to taste and mash.
Step 3/4
Once the pork is ready and slightly cooled, shred it finely. Divide the cheddar cheese evenly between the muffin tin cups and bake for 5 minutes at 375 °F. Remove from the oven, then add shredded pork, scallion, and cilantro to each muffin cup. Fold each cheese circle in half to cover the fillings, then return the pan to the oven and bake for another 5 minutes. Remove the cheese tacos and place on paper towels to absorb excess grease.
Step 4/4
Serve with the guacamole and your favorite salsa and sour cream, topping with any remaining scallions and cilantro. Enjoy!