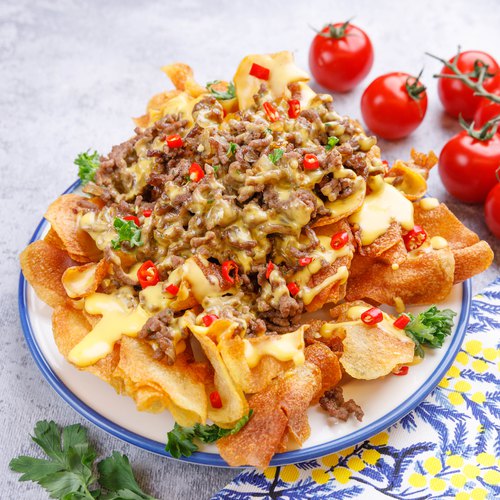 Potato Chip Nacho Platter
Nacho average nachos 🥑🧀🤤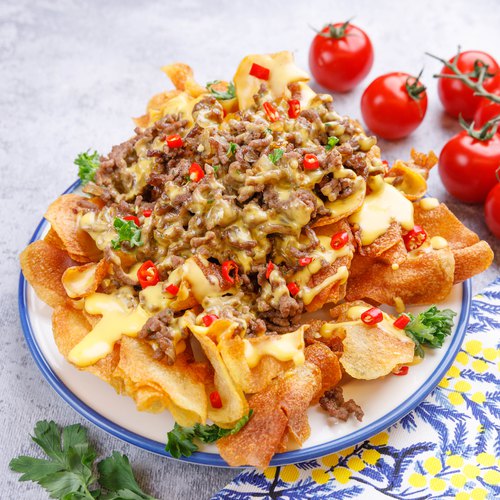 ---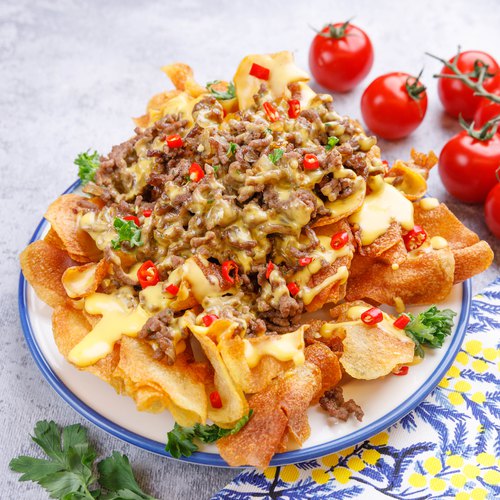 ---
Total time: 1 hour
Prep time: 1 hour
Ingredients for 3 people
beer
3/4 lb of ground beef
salt & pepper
1 onion, cooked & diced
1 xl potato
1 tbsp of paprika
sunflower oil
3 cups of grated cheddar
---
Tools
Ice cube tray
Electric griddle
Spiralizer
---
Step 1/3
Fill an ice cube tray with beer and place in freezer until frozen. Form 3 large hamburger patties, place them on a hot electric griddle, and place 1 ice cube in the center of each pattie. Sprinkle with salt, crumble the meat, let brown, then add in the cooked diced onions. Keep warm.
Step 2/3
Cut each end off of the potato and run through a spiralizer with the ribbon attachment (see video). Toss with salt and paprika, then deep fry in hot oil for about 7-10 minutes until golden and crispy.
Step 3/3
Place the fried potatoes on a serving plate and top with the ground beef mixture. Then, heat the cheddar cheese and 3/4 cup beer in a saucepan until completely melted and pour over the potato chip nachos. Top with parsley, scallions, and jalapeños. Enjoy!