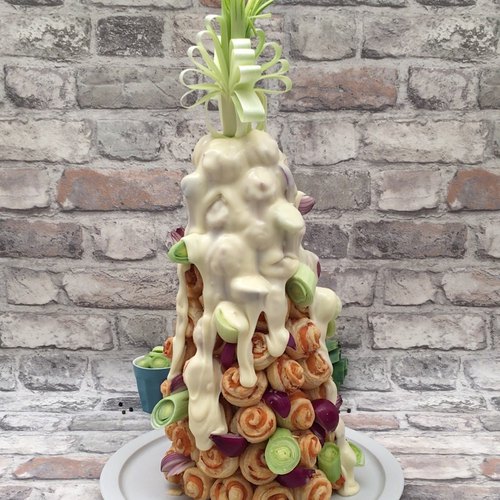 Appetizer Tower
A stunning centerpiece of snacks!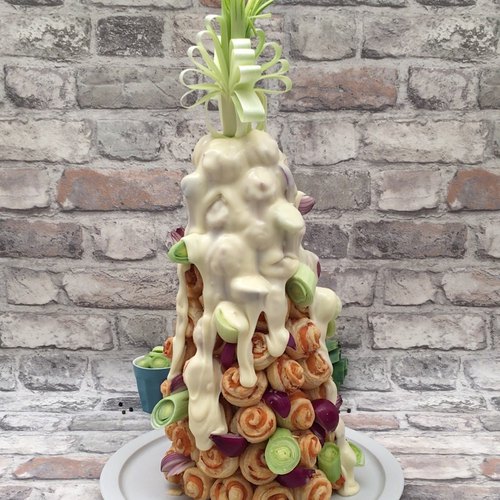 ---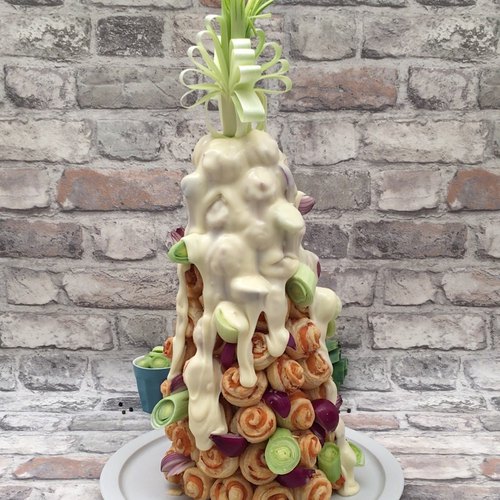 ---
Ingredients for 8 people
1 leek
9 puff pastries
36 slices of smoked salmon
2 red onions
1 1/3 cups of mozzarella cheese, grated
aluminum foil
toothpics
---
Step 1/3
Make a large solid cone of aluminum foil 20 inches tall. Cut the top and bottom off of the leek, keeping only the white part. Make 2 cuts lengthwise down the center of the leek in an X, leaving it attached at one end. Stick a toothpick in the bottom of the leek. Fold the 4 outermost strips of leek down and attach them to the toothpick. Tuck the ends of the next 4 strips under the base of the first strips. Repeat up to the top of the leek and cut the remaining leek core into 4 again.
Step 2/3
Cut the puff pastry in half lengthwise and place 2 slices of salmon on each. Roll the strips up lengthwise and place them in the fridge for 15 minutes. When they come out of the fridge, cut the rolls into sections. Pinch the sections into a ball on one side and keep the spiral visible on the other side. Place all the salmon flowers on a baking sheet lined with parchment paper and bake for 15 minutes at 350 °F.
Step 3/3
Remove from the oven, stick the flowers onto toothpicks and plant them into the aluminum cone. Attach pieces of leftover leek and red onion quarters between the flowers. Melt the mozzarella and pour it over the tower. Plant the leek sculpture at the top and enjoy!