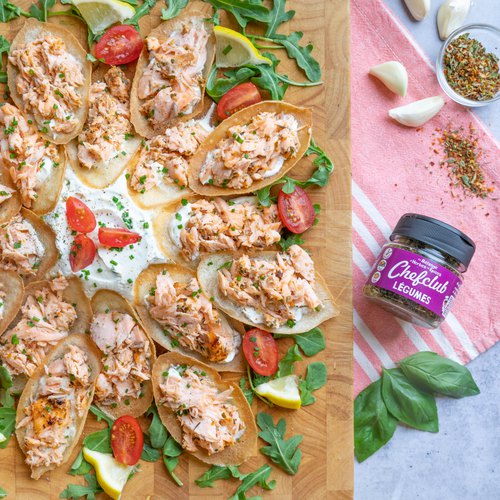 Salmon Boat Appetizers
Set sail towards delight 🐟⛵😋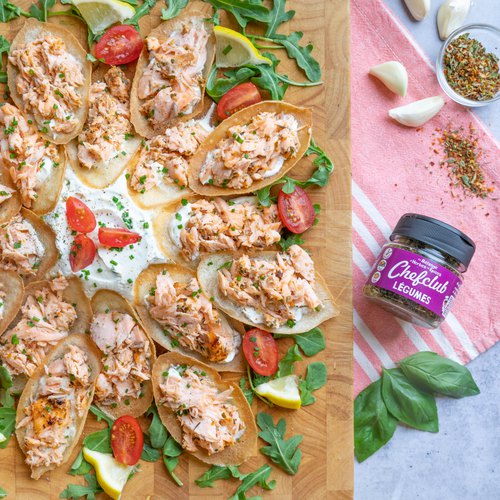 ---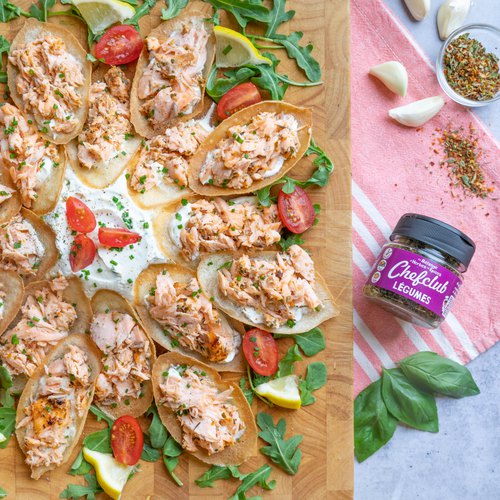 ---
Total time: 25 minutes
Prep time: 25 minutes
Ingredients for 6 people
1 1/4 cups of flour
3/4 cup of milk
1 2/3 lb of salmon fillet
2 cups of cream cheese
2 lemons
oil for frying
spices
pepper
chopped chives
arugula
cherry tomatoes
---
Tools
Metal spoons
Bowl
Cling film
---
Step 1/4
For the pancake batter: mix the flour with the milk and two pinches of salt. Let rest for 30 min. Butter the backs of the metal spoons, dip into the pancake batter, and deep fry in hot oil. Remove the pancake bite from the spoon and repeat until you have about 20 pancake bites.
Step 2/4
Cut a grid pattern on the salmon fillet and place it on a baking sheet covered with parchment paper. Sprinkle with your favorite spices, pepper, and sprinkle with lemon juice. Bake for 15 minutes at 350 °F.
Step 3/4
Place cream cheese in a bowl and add remaining lemon juice, chopped chives, and pepper. Mix. Line the inside of a small bowl with cling film and fill to the brim with the mixture, then place in the fridge for 30 minutes.
Step 4/4
Turn out the cream cheese dome and crumble the salmon. Top the pancake bites with the remaining cream cheese mixture and salmon, then arrange them in a circle around the dome to form a flower. Serve with arugula, tomatoes, and lemon wedges. Sprinkle with chives and enjoy!