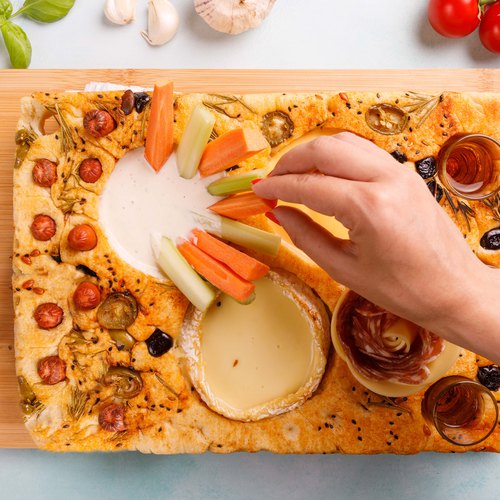 Appetizer Bread Board
Perfect for your next happy hour gathering ☀️🥖🍻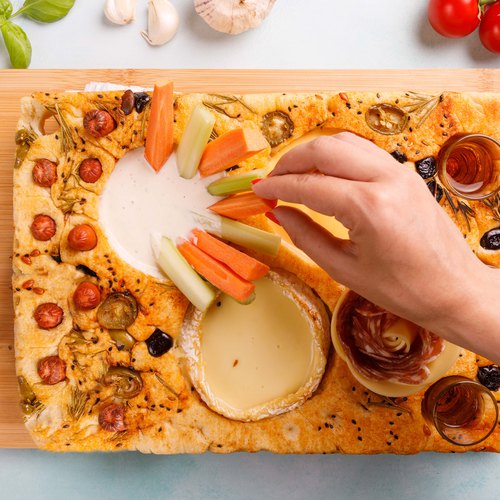 ---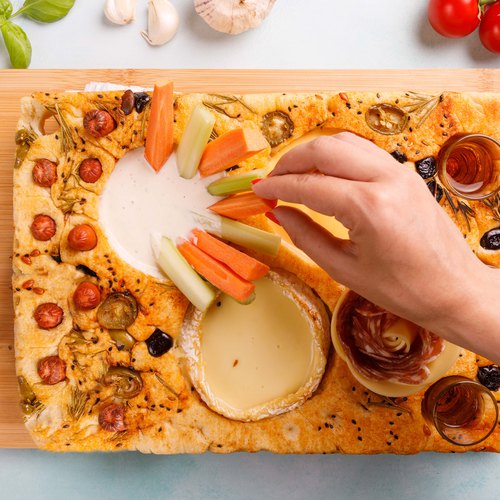 ---
Total time: 1 hour 55 minutes
Prep time: 45 minutes, Cook time: 25 minutes, Rest time: 45 minutes
Ingredients for 8 people
6 cups of flour
2 tbsp of yeast
1/2 cup of ranch
3 carrots
1 celery stick
1/2 cup of olive oil
1 wheel of brie
fresh rosemary
olives
3 jalapeños
chefclub apertif mix
4 hot dogs
salt
whiskey
1 1/4 cups of grated cheddar
8 slices of salami
8 slices of provolone
---
Tools
Parchment paper
Shot glasses
Foil
Blowtorch
---
Step 1/3
Prepare the foccacia dough by kneading the flour, 2 2/3 cups water, and yeast together. Place in greased baking dish and let rise 45 min. During this prepare a baking pan with high sides, line with parchment paper and drizzle with some of the olive oil. Place 3 shot glasses, two balls of aluminum foil, and the brie on the prepared baking pan. Sprinkle the pan with fresh rosemary, olives, sliced jalapeños, and Chefclub Apertif Mix.
Step 2/3
Turn the foccacia dough out onto the prepared pan, covering all the elements placed on the pan. Drizzle with remaining olive oil, press down with your fingers, and make dimples all over the dough. Cut the hot dogs in thirds and place the 12 pieces in the dough on one end of the pan (see video). Sprinkle with salt and bake for 20-25 minutes at 400 °F.
Step 3/3
Prepare a Jack Daniels bottle with a 1/4 cup whiskey at the bottom. Then add the cheddar cheese to the bottle, close, shake, and place in a pot of boiling water until melted. Next, flip the baked bread board onto your serving tray, remove the foil balls, and cut off the top layer of the brie. Then pour the melted whiskey cheese sauce in one of the bowls and the ranch in the other. Place carrots and celery sticks in the ranch, then fill the shot glasses with Whiskey and carefully light on fire. Create a salami and provolone rose and place in the center of the bread board. Serve and enjoy!