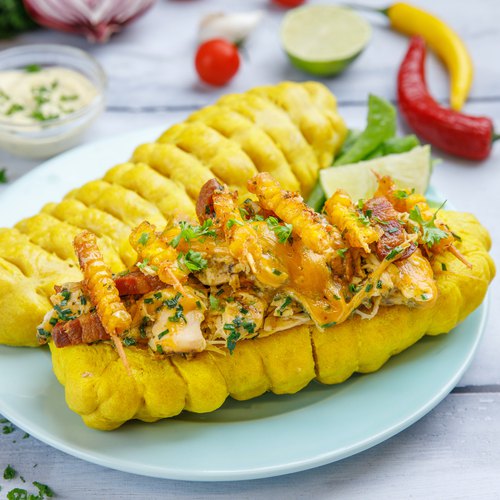 Corn Bread Boats
Piled high with creamy ranch chicken 🌽😍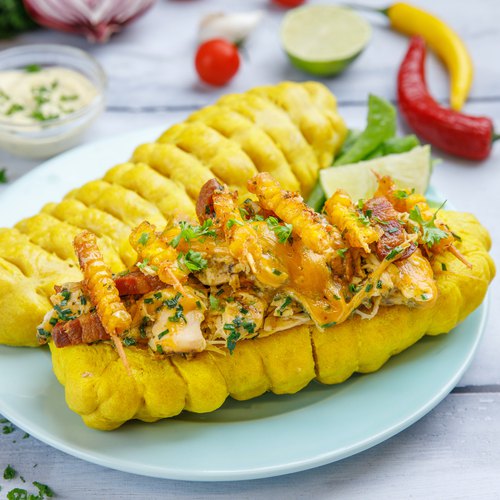 ---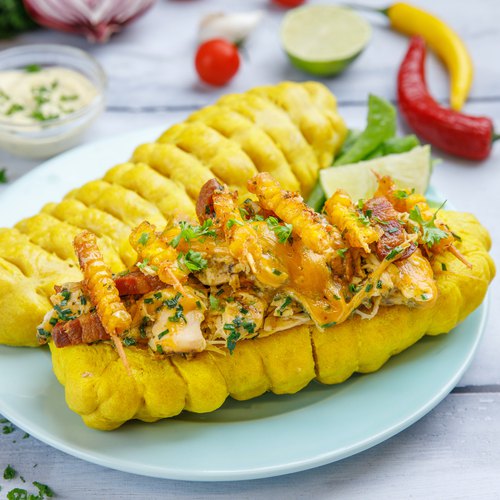 ---
Total time: 2 hours 30 minutes
Prep time: 30 minutes, Cook time: 1 hour , Rest time: 1 hour
Ingredients for 3 people
2 tbsp of parsley, chopped
1/4 cup + 1 tbsp chives, chopped
2 tsp of garlic powder
2 tsp of onion powder
1 tsp of dill powder
salt & pepper
1/4 tsp of cayenne pepper
6 chicken breasts
1/2 cup of ranch dressing
1 cup of bacon slices, chopped
4 corn on the cob
sunflower seed oil
2 tbsp of cornstarch
2 tsp of paprika
1 tsp of coriander
1/4 tsp of red chili flakes
1 tbsp of active dry yeast
2 tbsp of olive oil
1 tbsp of turmeric
3 1/4 cups of flour
3/4 cup of shredded cheddar
1 cup of cream cheese
---
Tools
Toothpicks
Paper towels
Chopsticks
---
Step 1/4
In a stand mixer bowl, add 1 cup water, yeast, 1/2 tsp salt, olive oil, turmeric, and flour. Mix on medium speed about 4 minutes. After, place plastic wrap over the top of the bowl and place in a slightly warmer than room temperature place for 1 hour. Meanwhile, mix the parsley, 1 tbsp chives, garlic powder, onion powder, dill powder, salt, pepper, and cayenne pepper. In a pressure cooker add the chicken breast, 2 cups water, ranch dressing, cream cheese, and spice mix. Turn to medium high heat with the valve open. Once the pressure has built up, reduce the temperature to medium-low heat and cook for 1 hour. Meanwhile, fry the chopped bacon.
Step 2/4
Cut the corn on the cobs in thirds. Boil in water for 5 minutes. Then heat the oil in a large frying pan. Dry the boiled corn, stand them upright, and place toothpicks in each kernel around the circumference of each cob as seen in the video, piecrcing the entire length of the cob. Be sure to save the corn ears for later. Cut off the kernels and place in a bowl. Coat with cornstarch, paprika, coriandre, and red chili flakes. Fry the corn toothpicks in hot oil at 350 °F until golden brown. Place in a bowl with paper towels and sprinkle with salt.
Step 3/4
Form the dough into three ovals about the size of a corn on the cob. Make many horizontal indents with a knife, then use chopsticks to make vertical indents to resemble a corn on the cob. Cut three of the remaining corn ears in half and place face down on a baking sheet as seen in the video. Cover them with the 3 pizza doughs so that you have 3 "corn on the cob" and bake for 15 minutes at 350 °F.
Step 4/4
Shred the chicken in the pressure cooker with two spoons. Then add the shredded cheddar, bacon bits, and remaining chives to the pressure cooker and place the top back on so it melts. Remove the corn ear from the baked corn breads and fill with the shredded ranch chicken. Serve with the fried corn sticks and enjoy!