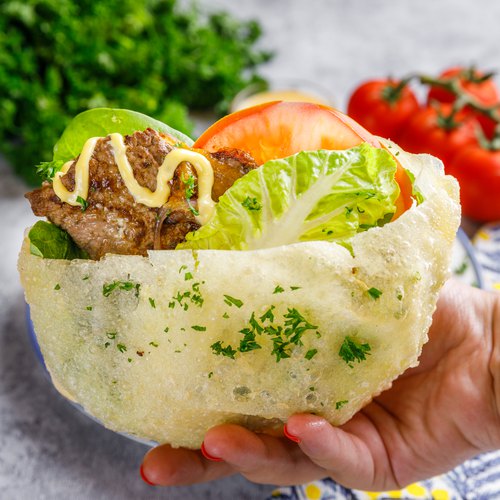 Cheeseburger Ball
All your favorite things in one perfect ball 🍔🍟🥰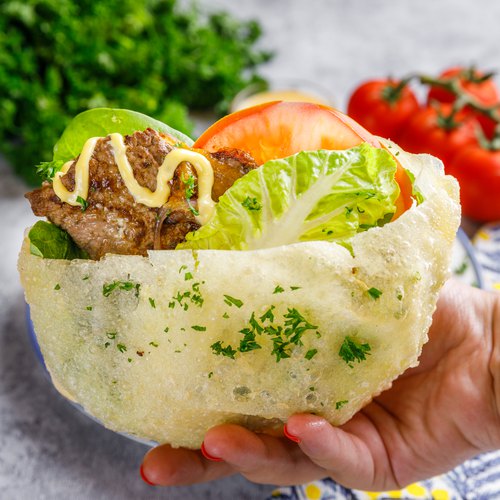 ---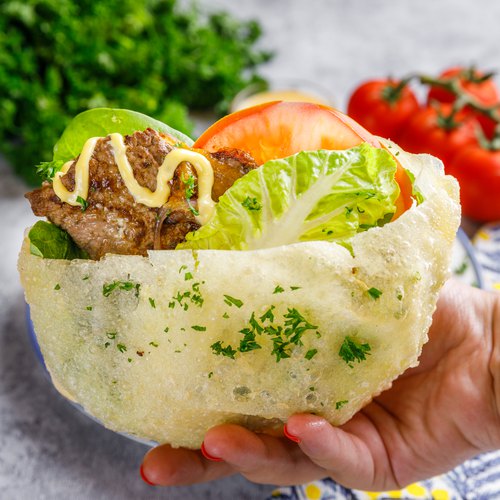 ---
Total time: 1 hour 15 minutes
Prep time: 15 minutes, Cook time: 30 minutes, Rest time: 30 minutes
Ingredients for 3 people
2 cups of flour
3 tbsp of olive oil
sunflower oil
1 onion
1 lb of ground beef
salt & pepper
2 cups of grated cheddar
french fries
1 tomato
iceberg lettuce
mayonnaise
ketchup
---
Tools
Parchment paper
Ladle
Electric griddle
Scissors
Rolling pin
---
Step 1/3
Prepare the tortilla dough by mixing the flour, olive oil, 1/2 tsp salt, and 3/4 water together. Divide into 3 balls, then roll out one ball of dough and place onto the outside of an oiled ladle. Put the ladle in the freezer. After, dip the ladle in a pot of hot oil to cook. As the outside of the tortilla begins to cook, it should detach from the ladle, at which point it will puff up and flip over. Continue frying until golden. Repeat until you have 3 puffed tortilla balls.
Step 2/3
Place the thinly sliced onions on the electric griddle over high heat and cook. Meanwhile, season the ground beef with salt and pepper, then place on a piece of parchment paper and spread the meat to the edges using a rolling pin. Place the meat on top of the fried onions, let brown, add the cheddar cheese to the center, then fold over horizontally. Cut into 3 pieces and continue cooking until desired level of doneness.
Step 3/3
Cut the fry bread open with a scissors and place the baked French fries, lettuce, tomato slices, and cooked pattie inside each one. Top with mayonnaise and ketchup. Enjoy!