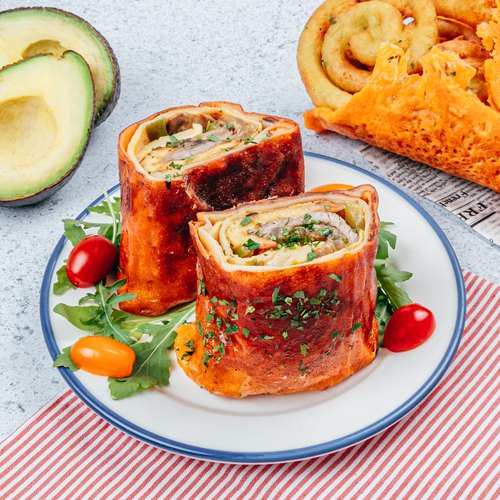 Philly Cheesesteak Roll
Philly Cheesesteak Roll! Let the yum times roll with this recipe 😁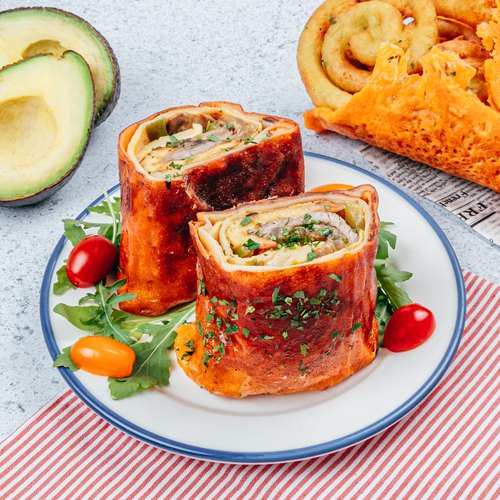 ---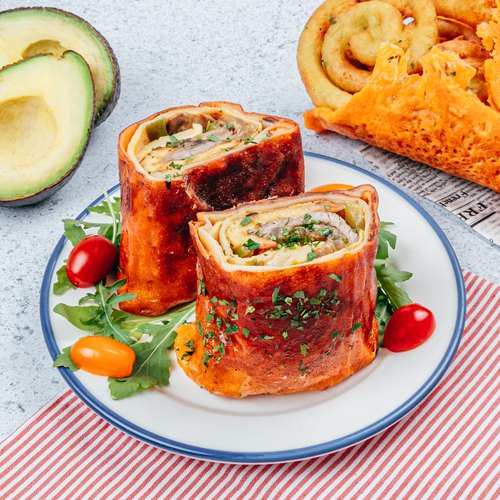 ---
Total time: 2 hours 35 minutes
Cook time: 35 minutes, Rest time: 2 hours
Ingredients for 4 people
2 steak
4 onions
3 green bell peppers
2 tbsp of olive oil
4 pizza doughs
10 oz of cream cheese
Sriracha hot sauce
Nacho cheese
Steak seasoning
Chives
Salt & pepper
---
Tools
parchment paper
---
Step 1/4
Place steaks in the freezer for 2 hours. Preheat the oven to 350°F. Sauté the onions and peppers in 1 tbsp of olive oil. Set aside. Stack 2 rectangular pieces of dough on top of one another. Repeat with the other 2 dough sheets. Roll the four pieces together. Make a cut lengthwise through the center of the dough. Spread the cream cheese over both sides of the dough. Add hot sauce. Add the onions and peppers on top of the cream cheese and season with salt and pepper.
Step 2/4
Roll one of the sides of dough up into a spiral, then place on top of the other dough and wrap that around the bottom so the fillings don't fall out. Place the stuffed dough onto a baking sheet covered with parchment paper. Flatten the dough to resemble a cinnamon roll shape. Bake for 20 minutes, then brush the beaten egg over the dough. Add steak seasoning to the exterior of the dough. Return to the oven for an additional 10 minutes.
Step 3/4
Once the steaks have rested in the freezer for two hours, remove them to a cutting board and cut each horizontally 3/4 of the way through, then flip the steaks over and cut at a diagonal 3/4 of the way through. Coat the steaks with the remaining olive oil and season to taste. Heat grill to medium-high heat. Cook the steaks on both sides and let the steaks rest for a few minutes.
Step 4/4
Remove the Philly roll from the oven and place it on a serving plate. Drape the steaks around the roll and drizzle with nacho cheese. Sprinkle with chives and enjoy!