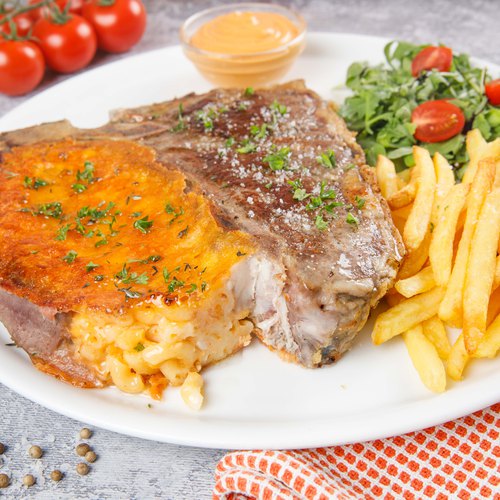 T-Bone Mac' N Cheese
There is no misteak with this meaty recipe 😜🥩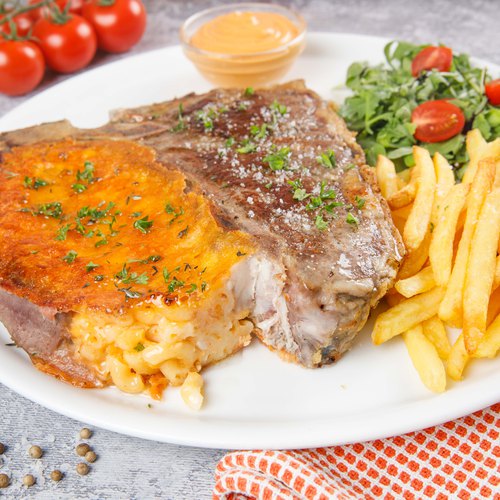 ---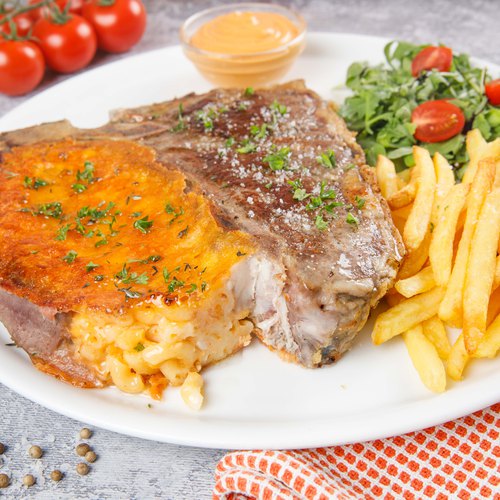 ---
Total time: 1 hour 30 minutes
Prep time: 30 minutes, Cook time: 1 hour
Ingredients for 1 person
1 t-bone steak
4 cups of macaroni
9 cups of cheddar slices
2 1/2 cups of shredded cheddar
1/2 tbsp of paprika
1 salt
1 pepper
1 steak fries
1 ketchup
1 bbq sauce
1 cup of butter
1 rosemary
1.3 cups of cream cheese
4 cups of gallon milk
1 olive oil
---
Tools
Aluminium foil
Toothpicks
---
Step 1/4
Spread cream cheese on each cheddar slice. Place slices on top of one another. Add salt, pepper and paprika. Place milk and macaroni around the cheese. Bake 1 hour at 350°F, stirring every 15 minutes.
Step 2/4
Place soft butter in a Pyrex dish and stick rosemary into the butter. Add olive oil and then burn the rosemary. Cover with another dish in order to get smoky.
Step 3/4
Season T-bone steak with salt and pepper. Remove the tenderloin part of the steak and set aside for another meal. Fold aluminum foil to create an enclosure where the tenderloin was removed. Use toothpicks to keep in place. Place steak on grill and put some shredded cheddar in the empty space.
Step 4/4
Spoon macaroni onto the shredded cheddar. Add remaining shredded cheddar. Flip the steak over once the cheese is crusty, about 2 - 2 1/2 minutes on each side. Baste with the smoky melted butter. Remove steak from grill and remove the aluminum foil. Serve with fries. enjoy!