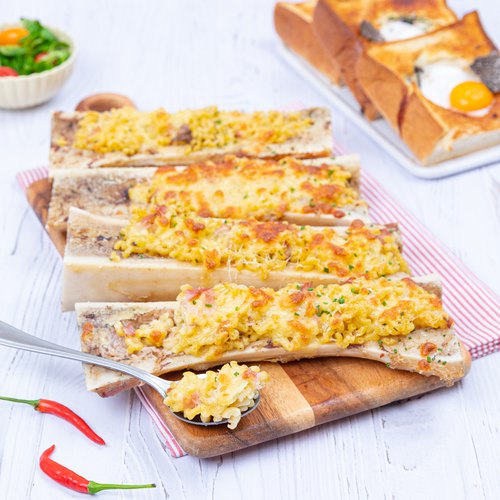 Bone Marrow Macaroni
Bone Marrow Macaroni! It's delicious down to the bone 😉🦴🍝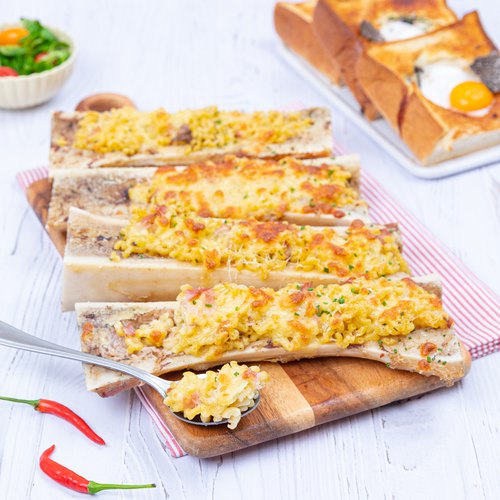 ---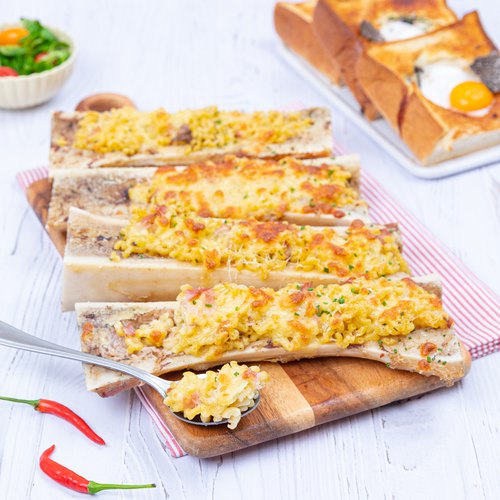 ---
Total time: 2 hours 35 minutes
Prep time: 5 minutes, Cook time: 30 minutes, Rest time: 2 hours
Ingredients for 5 people
5 marrow bones
2 sprigs of rosemary
Salt
Cloves garlic
1 vegetable bouillon cubes
1 1/2 lbs of macaroni pasta
4/5 cup of butter
Parsley
3/5 lb of ham
18 oz of mozzarella
Chives
1 comté cheese
2 slices of bread
1 black truffle
4 egg
---
Step 1/3
Immerse the marrow bones in ice water with salt, rosemary and garlic for 1-2 hours. Cook the macaroni with the vegetable bouillon cube.
Step 2/3
Butter the marrow bones and sprinkle with parsley. Bake 20 minutes at 350°F. Mix the bone marrow with the macaroni. Add the ham, mozzarella and chives. Mix again. Garnish the marrow bones with the pasta, add comté and bake to melt the cheese.
Step 3/3
Take two slices of sandwich bread, butter the surface and toast on the griddle. Make holes in the bread with a cookie cutter. Grate shavings of truffles and pour eggs into the holes. Bake at 410°F for 10 minutes. Serve with the macaroni and enjoy!