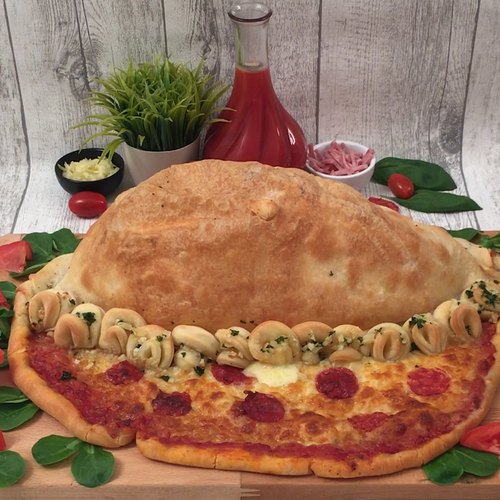 3-in-1 Pizza
Which slice do you want?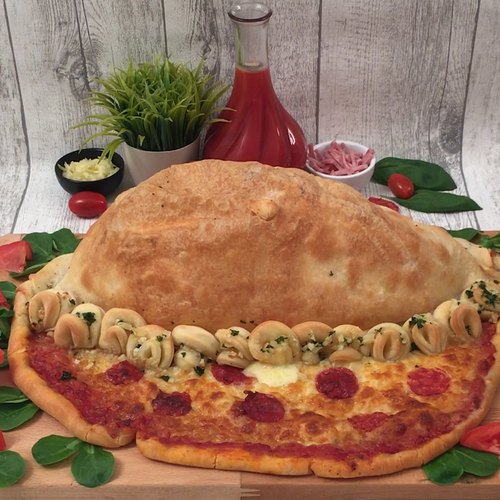 ---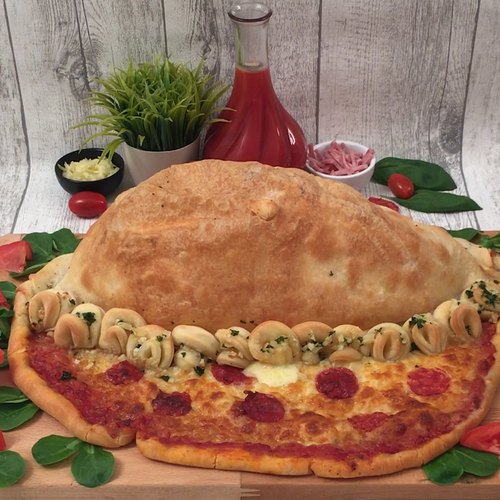 ---
Ingredients for 6 people
2 rectangular pizza doughs
4/5 cup of tomato sauce
2/3 cup of mozzarella, grated
10 slices of chorizo
1 cup of ham, diced
1 egg
1 1/2 tbsp of butter, melted
1 clove garlic
chives
basil
---
Tools
Rolling pin
Straw
Tall glass
Pastry brush
---
Step 1/4
Lay the 2 pizza doughs lengthwise, overlapping a bit, and roll them out to make a large square, Cut a disc as large as possible from the dough.
Step 2/4
Spread the tomato sauce on the dough and cover with grated mozzarella cheese. Arrange the slices of chorizo on one third of the dough. Place the ham on top of the rest of the pizza and crack an egg in the middle.
Step 3/4
Place the straw against the ham, protruding out of the pizza. Fold the dough into a calzone over the ham and straw but without covering the chorizo. Seal the edges well.
Step 4/4
Roll out the leftover dough and cut out 8 discs with the glass. Mix the melted butter with the chopped garlic and chopped chives and brush the small discs with it. Fold the discs in 4 to make little flowers and stick them against the edges of the calzone where it meets the chorizo pizza. Blow into the straw to inflate the calzone, remove the straw, seal the hole, and bake the pizza for 15 minutes at 425 °F. Remove from the oven, add basil leaves, and eat the 3 types of pizza.