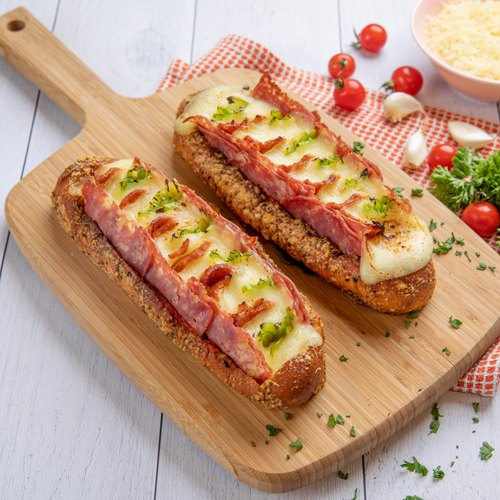 Pizza Toast
The perfect meal when you can't decide between the two 😍🍕🥪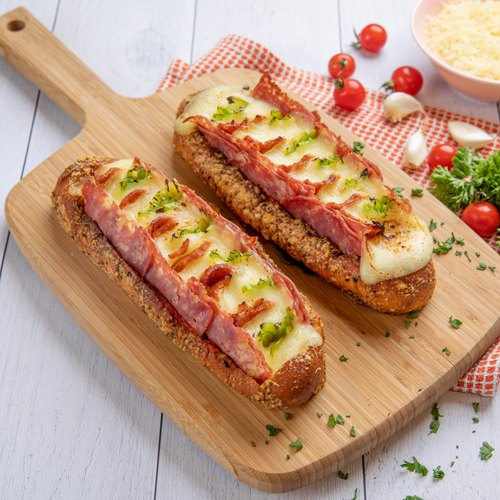 ---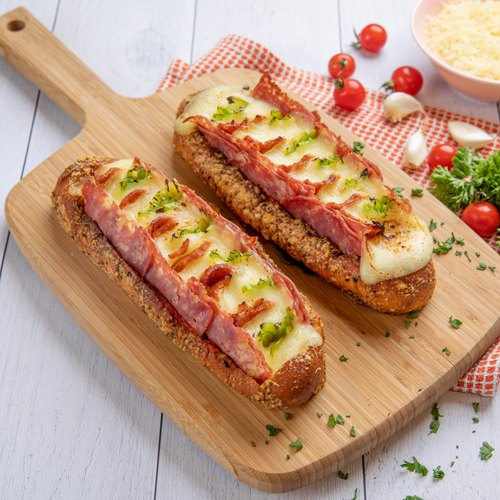 ---
Total time: 1 hour
Prep time: 1 hour
Ingredients for 8 people
2 large blocks of butter (32 oz)
8 bulbs garlic
3 tbsp of parsley
2 large mozzarella blocks
24 slices of pepperoni
1 green bell pepper
24 large slices salami
4 hoagie buns
1 tbsp of chefclub pizza spice mix
8 oz of grated parmesan
1 cup of tomato sauce
mixed greens
---
Tools
Plastic wrap
Parchment paper
Large jar
---
Step 1/4
Insert the garlic cloves into the two blocks of butter, sprinkle with fresh chopped parsley, and bake in the oven for 15-20 minutes at 350 °F. Let cool slightly, then strain the garlic infused butter into a large tall jar (save the garlic cloves to make homemade dips or add to mashed potatoes).
Step 2/4
Drain the mozzarella blocks and pat dry with a towel. Cut 6 slits (three quarters of the way through the cheese block) on each side of the block as seen in the video. On one side of the block place 2 slices of pepperoni in each slit and on the other side of the block place thinly sliced green bell pepper. Place 12 slices of salami in a rectangle on a sheet of plastic wrap. Place one of the mozzarella blocks on the salami, roll it up, and place it in the fridge. Repeat with the other block.
Step 3/4
Cut a rectangle in the top of each hoagie bun, being careful to not cut all of the way through. Press down the center of this rectangle outline as seen in the video. Mix the pizza spice mix with the parmesan and spread onto a baking sheet. Then dip the hoagie buns in the garlic infused butter and coat with the parmesan mix. Bake the hoagies on a parchment lined baking sheet for 10 minutes at 350 °F.
Step 4/4
Add the tomato sauce to the center of each hoagie. Cut the mozzarella blocks in half and place one cheese side up in each bun. Return to the oven and bake for 5 minutes at 350 °F. Cut the buns in half, serve with mixed greens, and enjoy!