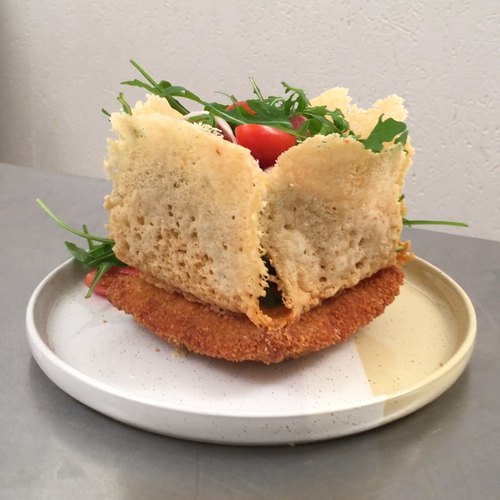 Deluxe Italian Sandwich
That also doubles as a salad 😉🧀🥗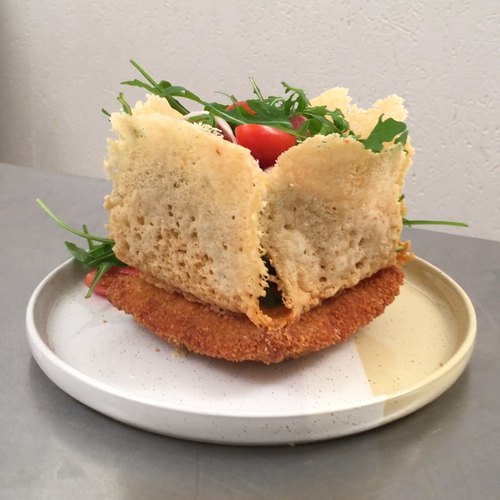 ---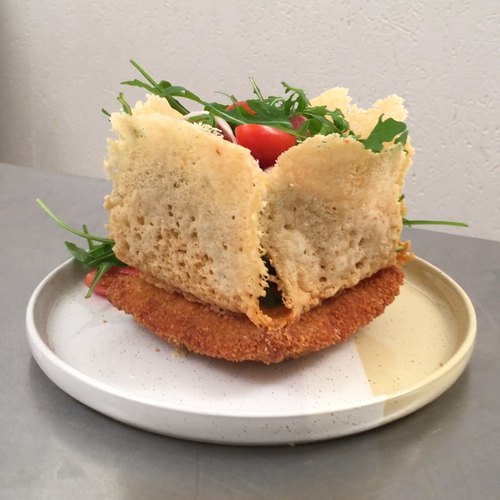 ---
Ingredients for 2 people
1 mozzarella ball
4 slices of white bread
6 slices of prosciutto
3 eggs
1 1/2 cups of bread crumbs
1 cup of grated parmesan
6 cherry tomatoes
arugula
sunflower oil
---
Tools
Mugs
---
Step 1/4
Cut the mozzarella ball into slices. Place a slice of prosciutto on a slice of bread, add a slice of mozzarella, and close the sandwich with a second slice of bread. Seal the edges tightly with the back of a fork and repeat for the second sandwich.
Step 2/4
Dip the sandwiches in the beaten eggs and cover with breadcrumbs. Fry the sandwiches in hot sunflower oil until golden brown.
Step 3/4
In a hot frying pan, form a cross of grated Parmesan cheese. When it has melted well, place a sandwich in the center and press down to stick. Then place the center part of the sandwich on a cup and fold down the ends of the crispy cheese so that they solidify in this shape. Repeat for the second sandwich.
Step 4/4
Turn the sandwiches over onto plates and garnish their cheese baskets with arugula, 2 slices of prosciutto, and 3 cherry tomatoes cut in half. Serve and enjoy.