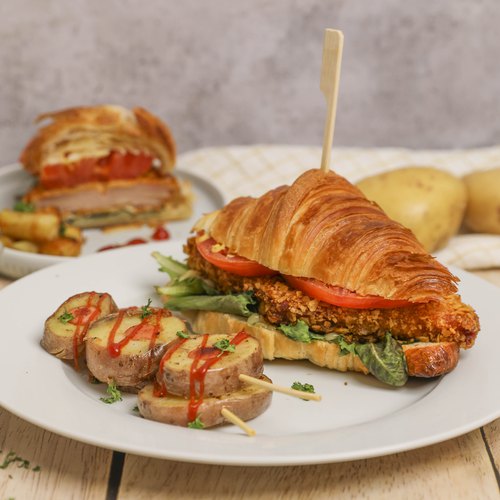 Deep Fried Croissant Sandwich
With potatoes on a stick 😍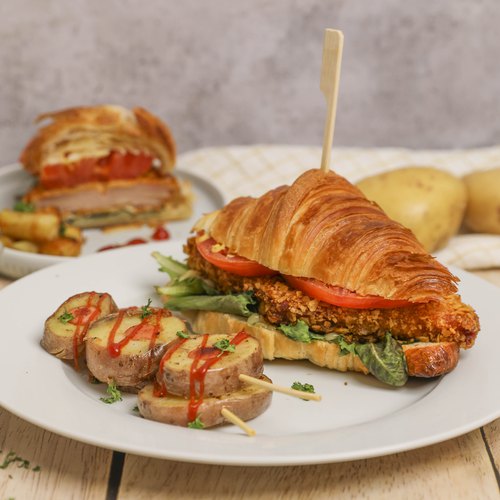 ---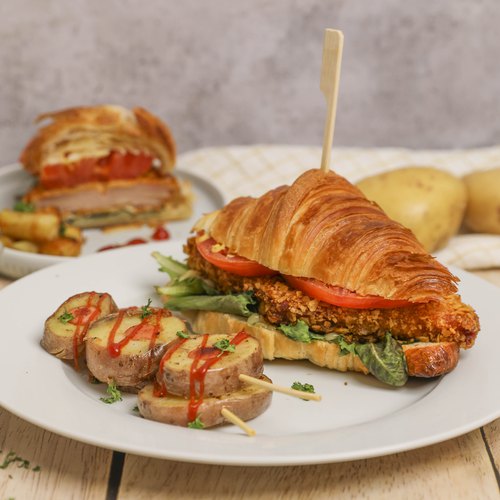 ---
Total time: 1 hour 45 minutes
Prep time: 25 minutes, Cook time: 20 minutes, Rest time: 1 hour
Ingredients for 6 people
18 slices of ham
18 slices of swiss cheese
1/2 cup of flour
3 eggs
1 bag of nacho doritos
sunflower oil
5 red skin potatoes
5 hot dogs
6 croissants
2 tomatoes
lettuce
mayonnaise
mustard
---
Tools
Parchment paper
Apple corer
Plastic wrap
Skewers
Paper towels
---
Step 1/3
Cut the ham into squares the size of the cheese slices. Stack alternating layers of ham and cheese, then slice diagonally down the center. Divide the triangles into stacks of 12 slices and place in the freezer for 30 minutes. Meanwhile, prepare one dish with flour, a second dish with beaten eggs, and a third with crushed doritos. Remove the triangles from the fridge and dip them in the flour, followed by the eggs, and finish with the doritos. Freeze on a sheet of parchment paper for 30 more minutes.
Step 2/3
Wrap the potatoes in plastic wrap, then place in the microwave for 5 minutes. Take them out and let sit for 5 more minutes before unwrapping. Place in the fridge for 10 minutes, then cut out the center of the potatoes with an apple corer and place a hot dog inside the hole, cutting off any protruding ends. Slice into medallions ½ inch thick ,and then skewer 3 on each stick. Place in the hot oil at 325 °F and cook for 2 minute on each side. Set aside.
Step 3/3
Remove the triangles from the freezer and deep fry in oil at 375 °F. Place on paper towels to drain excess oil. Place the croissants on serving plates, cut in half, and dress with lettuce, tomato slices, the fried triangle, mayonnaise, and mustard. Serve with potato skewers and enjoy!